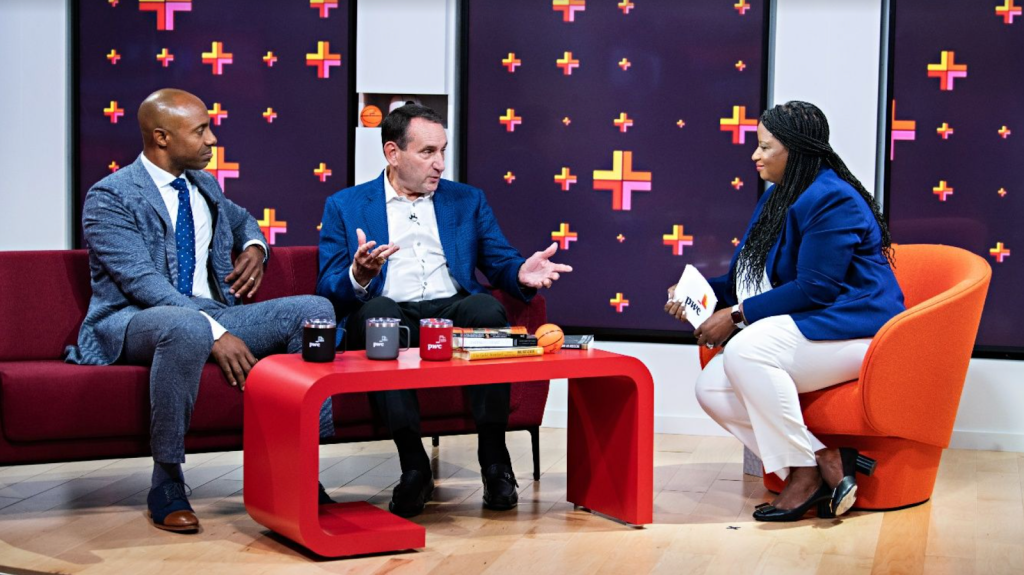 Enabling employees to personalize their career paths led to a 20% increase in job applications at PwC
At this global professional services firm, employee growth and development is a team sport
For employees at PwC US, "everyday flexibility" has long been a beloved part of the organizational culture. 
But throughout the pandemic, the professional services firm doubled down on offering its more than 65,000 employees even more personalization and flexibility. The goal? To "fundamentally rethink the work experience in the profession," says Kimberly Jones, a PwC talent strategy and people experience leader. 
First, PwC offered location flexibility to its more than 40,000 client service professionals. Nearly 80% chose a hybrid arrangement, with the rest opting for fully virtual. 
Upon announcing this change, PwC saw an immediate 20% increase in job applications to the firm.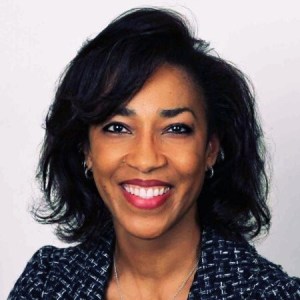 "People are seeking opportunities that meet the needs of their families, align with their beliefs, and build the skills needed for the future," says Jones. "While these needs are universal, what they mean to an individual is personal, underscoring the need for options."
Recognizing an opportunity, in the spring of 2022, PwC rolled out its My+ strategy—a reimagination of its people experience. The intent was to "change the way we work," says Jones, "focus[ing] on using technology to personalize career paths, all while keeping our clients' needs at the center."
The My+ strategy is comprised of four pillars: well-being, total rewards, development, and "always a PwCer," and over the next three years, the company has pledged to invest $2.4 billion to bring it to life. 
A team approach to growth
A key offering of the My+ strategy is increased attention to cultivating employee growth and career development. The company understands that growth is a team sport, requiring support from your manager, team, and the organizational structure itself.
What this means in practice is that all new hires are paired with a dedicated "Development Team" consisting of three seasoned PwCers who focus on supporting the employee through personalized career development. Each Development Team includes:
Relationship leader: Think "Goal-Oriented Gail" 
Gail is a managing director or partner who mentors and checks in with you periodically. Gail, who could also be your manager, tracks your progress against the five dimensions of The PwC Professional framework: relationships, business acumen, technical and digital, global and inclusive, and whole leadership.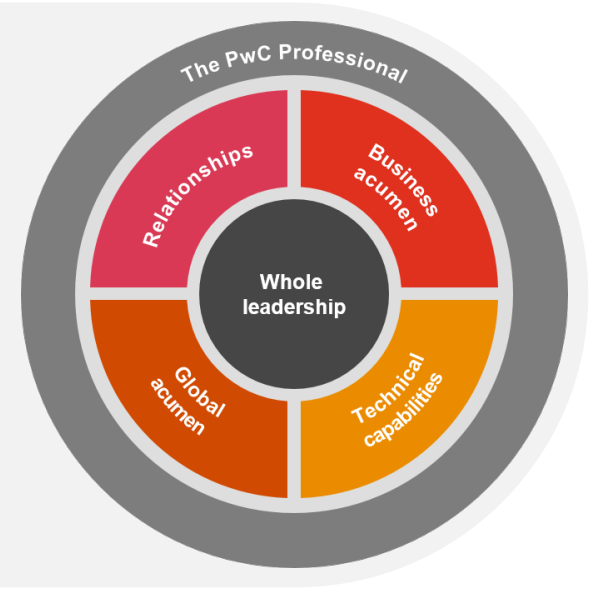 Career coach: Think "Skill and Re-skill Scott"
Scott provides career advice and training opportunities to develop skills that can prepare you for leadership. Typically at a manager through director level, Scott guides your learning across capabilities outlined in "The PwC Professional" framework.
Connectivity partner: Think "Collaboration Cara"
Cara connects you with colleagues across the organization, both to help you with your day-to-day work as well as to expand your network for potential future opportunities. 
Developing "purpose- and values-driven leaders" 
The Development Team approach is a win-win for leaders as much as employees. The seasoned vets who participate see it as a chance to develop their coaching and mentoring skills, adding to their professional toolbox. 
And they're not expected to go at it alone. To ensure leaders have the support they need to coach effectively, PwC provides resources and guidance for facilitating collaboration and connection on distributed teams.
For example, PwC rolled out "Leaders in Action," an event series open to all employees, from individual contributors to managers. During the series, leadership coaches and experts presented on topics such as leading with courage, inclusion, and resilience. After each session, teams participated in small group discussions and follow-up activities designed to allow them to apply what they learned.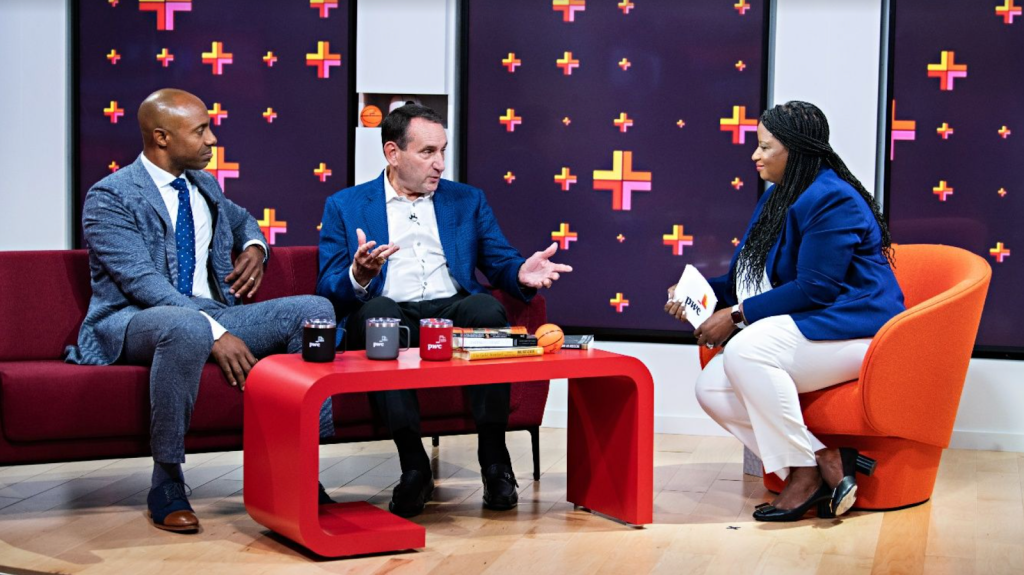 PwC has hosted two Leaders in Action events since it launched in the Spring of 2022, holding more than 130 watch parties across the country to view it in person and in real-time, generating nearly 50,000 viewers. 
Jones attended watch parties in Dallas, TX, and said the energy was palpable: "Leaders in Action programs seek to equip everyone to be a strong coach and 'coachee'— growing skills for both giving and receiving feedback. Afterward, we talk about the speaker and takeaways, and we get the chance to connect with one another."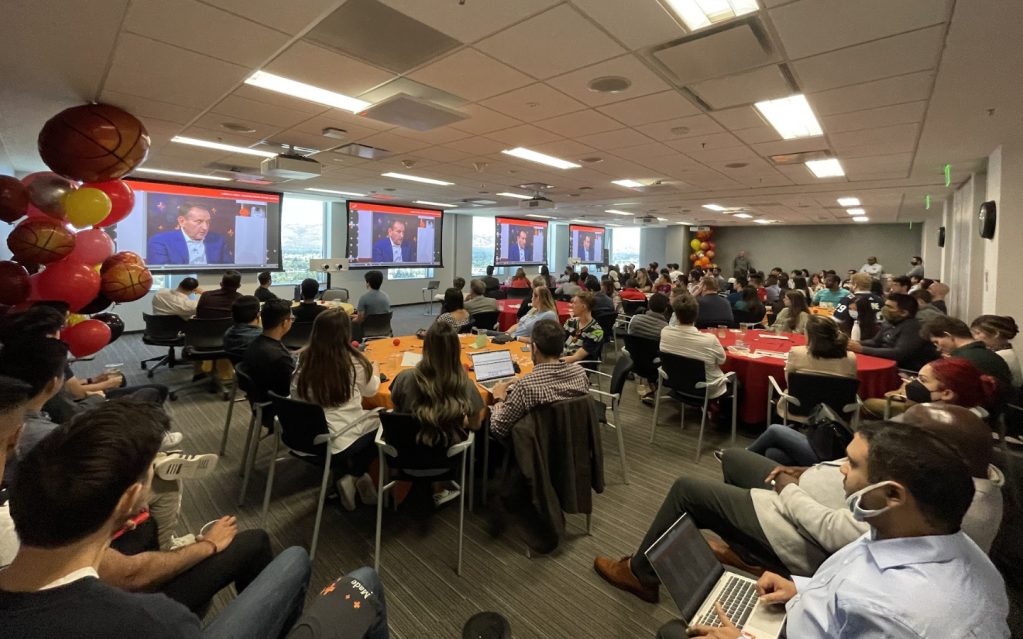 The "Inclusive Mindset" badge
Another way PwC focuses on developing employees' leadership and coaching skills is through the "Inclusive Mindset" badge. 
This self-paced, immersive experience allows employees to navigate realistic on-the-job scenarios, combining virtual content (such as videos and animations, virtual reality simulations, leadership talks, and articles) with live coaching and conversations with colleagues to better understand each other's lived experiences.  
"Including a VR component of the badge provides a dynamic way to up-skill inclusive leadership behaviors, especially across hybrid ways of working," notes Jones. "The experience is both a psychologically safe and an authentically representative space in which to practice these new skills."
VR scenarios allow participants to have live conversations with an avatar who helps them to:
Deliver candid, performance-based feedback comfortably, even in difficult situations

Recognize how similarity bias can potentially impact the delivery of feedback, its timeliness, and how it's received 

Tailor approaches to feedback conversations when coaching across differences

Confirm a mutual understanding when delivering feedback 

Demonstrate empathy and use thoughtful questions when delivering feedback
"The Inclusive Mindset badge signals our commitment, as individuals and as a firm, to listen, learn, and create change," says Jones.
Professional services can be a demanding, high-pressure job. Jones says that the My+ experience offers all PwCers the personalization and flexibility to help them thrive as they move through their career journey. 
"Our commitment, the largest in professional services to date, lays the foundation for a future where we fundamentally reimagine how we work," says Jones. The goal is to allow employees to "personalize their career journey at the firm in a tech-enabled way and at every stage of their lives."