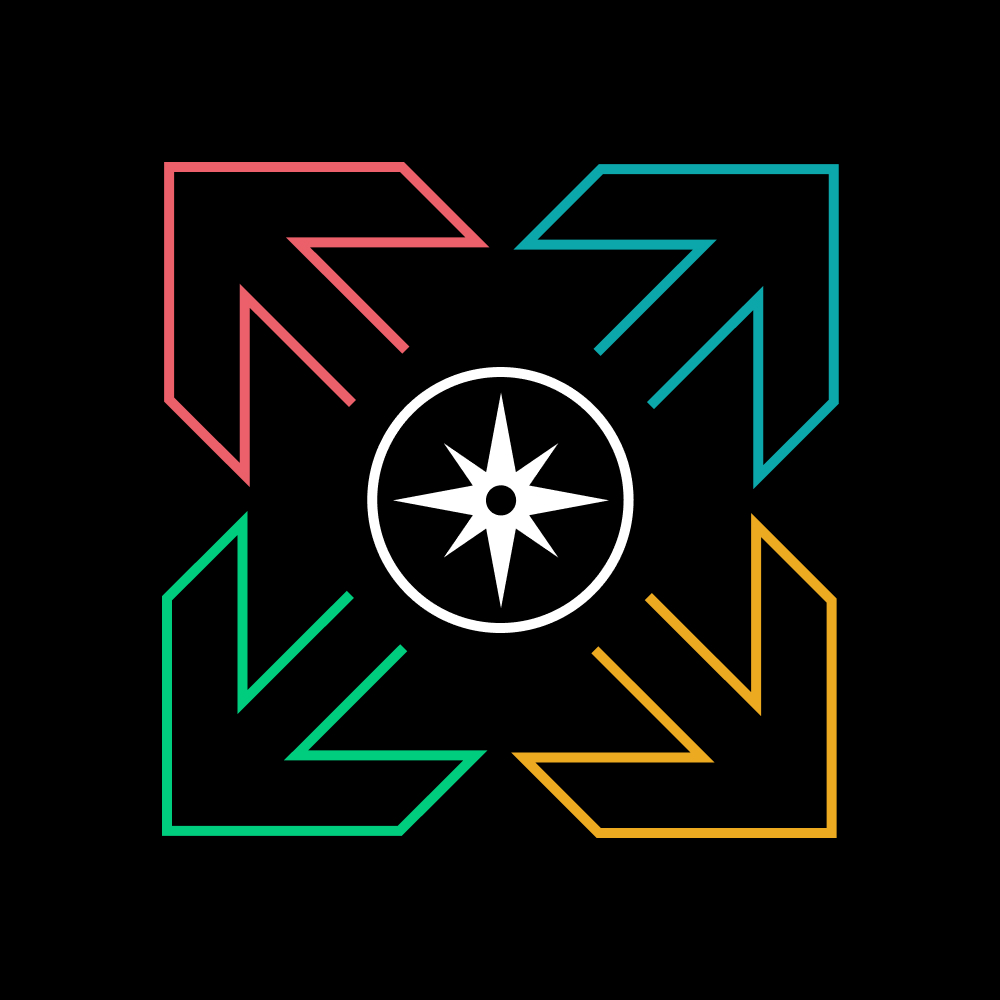 Beyond hybrid: flexible work starts with shared purpose and principles
Part one of a step-by-step guide for leading your organization through a flexible work transformation
Posted May 5, 2022 by the Future Forum team
This is part one of a two-part series on how to lead your organization through a flexible work transformation. In this post, you'll learn how to establish your purpose and principles for flexible work. In part two, you'll learn how to establish guardrails to keep your flexible work transformation on track.
Research from the Future Forum shows that knowledge workers want flexibility — and they're willing to walk to get it.
But as organizations adapt to this new expectation, leaders may feel like they're venturing into unexplored territory without a map.
This playbook is for leaders who want to:
Align their organization behind shared purpose and principles for flexible work
Understand the broad landscape of flexible work arrangements, including which arrangements work best for various teams and functions
What we mean when we say flexible work
Hybrid, remote, virtual, distributed… these words all describe work models that differ from the traditional office schedule that has been the default for decades.
When people hear these words, they often think about employees who sometimes or always work from home. But that's just one (rather narrow) definition of what it means to work flexibly.
At Future Forum, we lump all of those terms under the broad umbrella of "flexible work."
Future Forum's quarterly Pulse survey of more than 10,000 knowledge workers across six countries has found that while location flexibility is important — with 79% of workers saying they want flexibility in where they work — schedule flexibility is in fact even more important — with a whopping 94% of workers saying they want more control over their schedule.
This trend has remained constant quarter over quarter — and yet the prospect of schedule flexibility still defies expectations for a lot of leaders. Even the most innovative companies, the ones that embrace location flexibility, have struggled with the concept of schedule flexibility.
But let's face it: a calendar full of back-to-back meetings from 9:00 am to 5:00 pm, even when done via Zoom from a home office, is not real flexibility, and it's not what workers are asking for. They want the ability to coordinate schedules with their partners and kids. They want to be able to take time out of their day to rest, workout, or go to an appointment. They want to be able to work on a schedule that allows them to be the most productive. They want the freedom and autonomy to make their lives work and do good work all at the same time.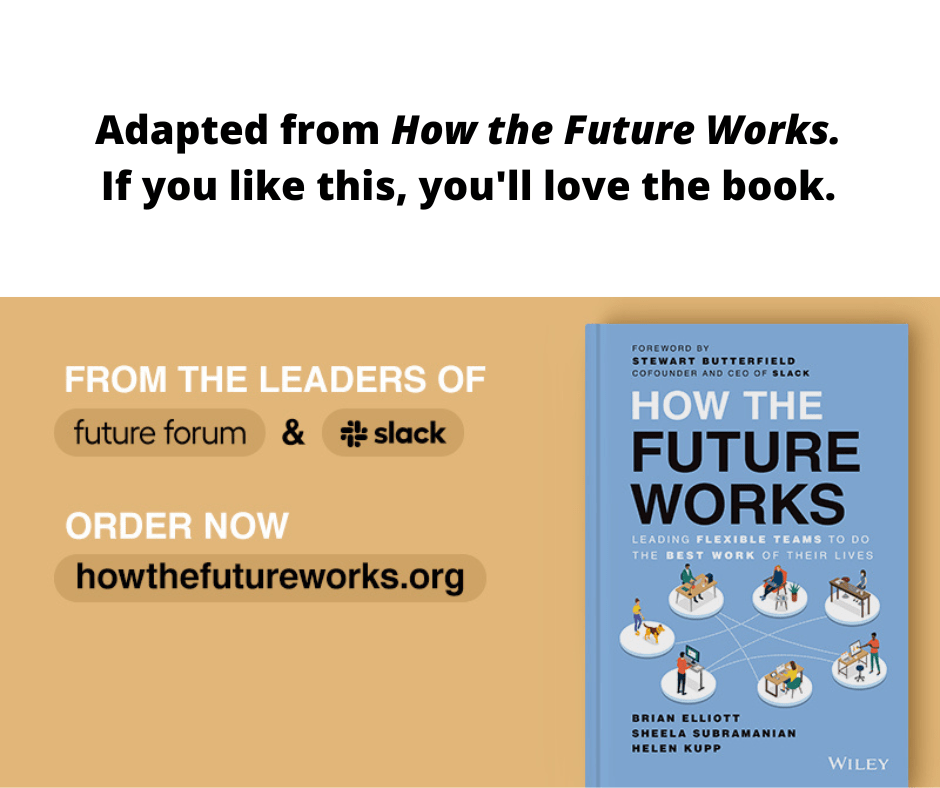 First, agree on your purpose
So where to start? We urge leaders to begin by identifying your purpose: WHY do you want to enable flexible work in the first place? Clearly articulate your why, and then align your entire leadership team behind it.
Your flexible work PURPOSE, defined
A statement explaining the main business purpose behind your flexible work strategy. It should clearly articulate why flexibility is important to your company and be compatible with your organization's overall purpose and values.
The process of defining why flexible work supports your business objectives will in itself begin to create greater alignment among your leadership team. You will then continue to build on that common understanding as you translate your flexible work purpose into a set of core principles that will help you to introduce your flexible work strategy to your employees.
Next, outline your principles
Principles don't look too different from core company values in some ways. They're not focused on the tactical how (like how many days you should be coming into the office), but more on the mindset required to make a significant shift in how you do business.
Principles are meant to be shared across an organization in order to provide direction, consistency, and inspiration as people make the big changes required to enable flexible work. They're not a mandate or a prescribed set of rules. Instead, they should act as a North Star, providing a framework and top-level guidance that allows individual departments and team leaders to decide what works best for their group.
Your flexible work PRINCIPLES, defined
Three to six foundational statements or guidelines that will serve as a framework to help guide decisions and drive behavior change across your organization as departments and teams craft and implement their approach to flexible work.
Consider the experience of Royal Bank of Canada (RBC). Creating what they called "enterprise principles" to guide their approach to flexible work was particularly important for RBC because of the global diversity of their company; they employ 86,000 people worldwide across multiple lines of business spanning 36 countries. They needed principles to help guide the right decisions and drive behavior change throughout the organization.
"The nature of the work across our various businesses is very different, so we knew out of the gate that we couldn't push out a one-size-fits-all solution," explains Helena Gottschling, RBC Chief Human Resources Officer. Someone working in personal banking, for example, might have to be on hand to meet with customers, whereas someone working in analytics or accounting would have very different requirements.
Their principles — five in all — set a foundation, helping to create alignment across the large, diverse, and geographically dispersed organization and guide leaders in determining what would work for their respective businesses.
RBC's "Enterprise Principles" for Flexible Work
Flexible Work is here to stay: Hybrid work arrangements will be supported where feasible and optimal for the business, clients, and employees.
Our approach starts with our business strategy: Platforms have the flexibility to adopt a tailored approach to optimize across teams, roles, and regions; while enterprise standards set the parameters to enable consistency and scale.
Proximity still matters: Being close to our colleagues and the communities we serve is core to our culture and will remain so in the future; for the majority, this means residing within a commutable distance to the office.
Strategic investment is required: To fully enable our employees, we will invest in technology, infrastructure, and skills to operate in a more flexible environment.
Inclusive culture with growth opportunities: Employees should have a consistent and meaningful employee experience with access to development opportunities regardless of work arrangement or location.
Getting to a place where they could distill their own vision of flexibility into five simple, easy-to-understand principles that applied to the entire organization was a process for RBC — one that involved lots of discussion about how to tailor some of the best practices of flexible work to their specific needs.
For example, when RBC launched their flexible work strategy, they focused on both schedule flexibility and location flexibility, but with some boundaries. They decided that, for their organization, "Proximity still matters" (Enterprise Principle number three). That doesn't mean employees have to be in the office five days a week, but RBC's leadership recognized the importance of bringing people together every now and then in intentional ways. "Proximity still matters" communicates to the organization that it's important to RBC that people are generally located close enough that showing up once a week — or maybe a week at the beginning or end of each quarter, depending on what works for their team — is an option for meetings, events, or simply to plan and connect with colleagues.
"What we didn't want," Gottschling says, "is to have one group say that all their team members could move to a different region and never come into the office while another group that does similar work says the complete opposite." You'll note that "Proximity still matters" doesn't dictate that people need to live in a certain region or city. Instead, Gottschling points back to employees to make the decision by asking "What's your tolerance for commuting?" based on the team's frequency of in-person gatherings. You can see how this specific principle helps to provide a balance between flexibility and structure — something that both leaders and employees say they want.
As RBC's experience shows, some principles will be unique to your business. A fully remote company with no headquarters like Gitlab, for example, would have different requirements than a company employing a lot of in-person workers, like RBC.
That said, we have found that many principles are universal across organizations and industries.
Examples of flexible work principles
Following are a few more examples of principles that executives from a variety of companies are using to reshape the way they work. Remember to keep it simple and resist the urge to over-engineer this; most companies aim for between three and six principles in total.
Provide flexibility and freedom for people to do their best work. Think beyond people's ability to work from home a few days to what it means to provide flexibility in when as well as where, and measure performance in terms of outcomes not activity.
Give team-level autonomy to achieve goals rather than top-down directions. One size almost never fits all. Provide global guidelines for work arrangements and let teams decide on specifics to suit their needs.
Ensure equitable access to opportunity. Design your working norms to ensure equity in access to opportunity, regardless of your work arrangement, for diverse talent and those in what were once "remote" offices. Use this as an opportunity for leaders to find new ways to help people build their networks and create opportunity from anywhere.
Maintain a learning mindset by being adaptive. Prioritize and create opportunities for experimentation and sharing best practices. Norms and practices will need to continue to evolve as we learn. Commit to measuring outcomes and adjusting as you go.
Top tips for outlining your flexible work principles
1. The change must be leader driven
The question of how people will work together is so fundamental to any business that a move toward flexibility must be driven by top leaders — preferably the CEO.
"At Harley-Davidson, our CEO Jochen Zeitz established a vision for us to operate with a 'virtual mindset," says Julie Anding, Vice President, Inclusive Stakeholder Management, at Harley-Davidson Motor Company. "That vision was grounded in increasing collaboration and integration, leveling the playing field, and focusing on meaningful outcomes."
Similarly at Slack, the change to flexible work started with dedicated time and attention from our CEO Stewart Butterfield and executive team, including weekly dates on the calendar for in-depth conversations. Those conversations largely centered on three main questions that can provide a starting point for any organization:
What problems are we trying to solve?
What business outcomes do we want to achieve?
What perceived challenges are we facing?
It took more than two months of conversations to agree on a purpose and come up with a set of principles that were ready to be shown to the rest of the organization. It may seem like a lot of time spent up front, but it was worth it because of the alignment we were able to build as a result.
2. Check your assumptions
What came out of those executive conversations at Slack — and what we hear over and over again from the organizations we work with — is a common set of concerns among top leaders about how, and even if, flexible work can really work. Following are some of the ones we hear most often:
How will I know my people are actually working and being productive?
What will happen to our culture if we aren't in the office?
Won't it hamper our ability to innovate and be creative?
Won't new and younger employees be left behind with fewer opportunities for apprenticeship and learning?
When you hear these questions, or if you think of them yourself, it's a good opportunity to check your instincts and ask why you believe that flexible work will have the kind of negative impact they imply. Remember, many of these concerns aren't rooted in data. Flexible work has been linked to higher productivity, not less, for example, and doesn't negatively impact creativity based on Future Forum research.
To put it more broadly, ask yourself why you believe people need a fixed schedule in the first place. Or, why do any of us need to be available eight hours a day for meetings? If your answer is because we've always done it that way, then it really is time to examine your thinking.
3. Dedicate resources
A fundamental shift like this won't work if a company simply puts out the purpose and principles and leaves it at that. It will take time, investment, and long-term accountability to cement a change of this scale. It will also require a shift in how you think about allocating some of your resources, so that needs to be part of your leadership discussions.
For example, instead of looking at flexible work as something that will require a big, new investment, think about it more in terms of reallocating resources. All that time and money you once put into your real estate portfolio and office layout — figuring out who got what office and which departments went on which floors to enable collaboration — can now be shifted toward determining which digital tools and infrastructure will best enable those collaborations.
Investments in many of the perks you once offered to attract top talent — like in-office restaurants and gyms — can be redistributed to individuals to use in ways that will best serve them and their work.
You will also have to rethink some of your people resources. There must be people focused on making flexible work successful, and not just through the transition, but over the long-term as well. At Slack, we formed a dedicated "Digital-First task force" composed of senior members across geographies and functions (HR, communications, IT, etc.), as well as core teams that are responsible for the work to move us forward. They worked directly with Slack's executive team for support, feedback, and ultimately, implementation of new policies. Some companies are even creating a new role, a Flexible Work Leader, because like anything in business if someone isn't accountable, it probably isn't going to work.
4. Involve your people early and lead with transparency
A Future Forum survey of knowledge workers found that more than two-thirds (68%) of executives want to work in the office all or most of the time—that's three times the number of non-executives who said the same. Remember, employees have a clear preference for flexibility: 94% percent want schedule flexibility.
The survey revealed a further disconnect within organizations when we asked executives and non-executives about post-pandemic reopening plans. Two-thirds of executives believed they were being transparent about their plans while fewer than half of employees agreed. And employees who don't believe their employers are being transparent report substantially lower job satisfaction.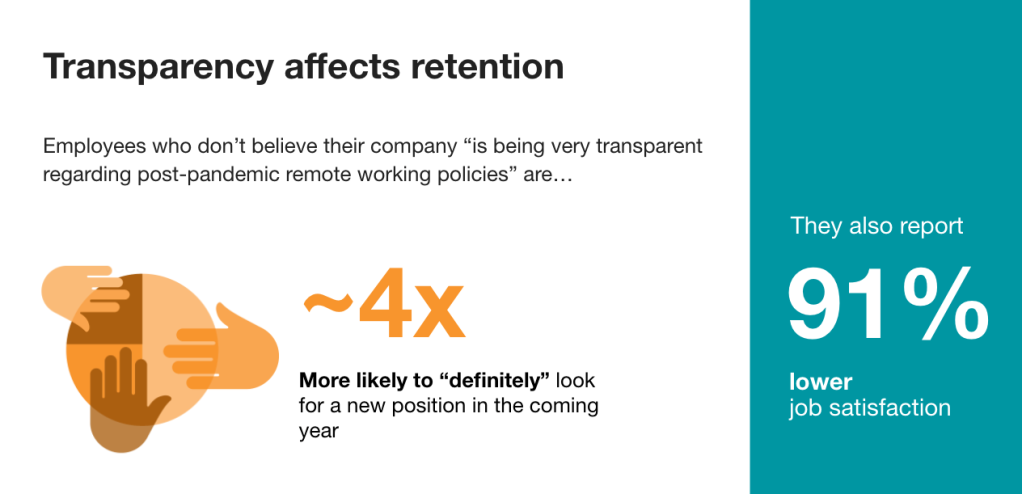 One of the main reasons to define your flexible work purpose and principles is not just to get alignment among your executive team. It's so you have something to show to your entire organization. It's a way to begin communicating broadly and build greater alignment. It's also a way to open up conversation about your plans.
And you won't be able to successfully bridge the executive-employee disconnect unless you get feedback about your flexible work plans from people at all levels of your business — and you get it early. At Slack we created advisory groups with employees representing different regions, employee resource groups, and functions to get input about different aspects of our strategy or potential points of failure.
5. Keep a "more to learn" mindset
Finally, you can continue to build trust through transparency by admitting up front that your flexible strategy is a work-in-progress and you don't have all the answers. Starting with those first conversations about your purpose and principles, and continuing as you hone your strategy and put it into practice, your company will be best served by keeping an open mind and a willingness to learn.
This is a new way of operating for most companies, so you will need to try things out, pay attention to what works, and be willing to adjust and adapt. Business isn't stagnant, as we all know, and your flexible work strategy should grow and change with the changing needs of your organization.
Checklist for establishing your flexible work purpose and principles
Is your leadership team aligned on the main business purpose behind implementing a flexible work strategy?
Have you translated that purpose into clear and concise flexible work principles to communicate to the rest of your organization?
Have you gotten feedback from all levels of your organization about whether your flexible work principles resonate?
Are you ready to proceed with an open mind and flexible plans as you continue to create and implement this bold new strategy that will fundamentally change the way you work?
Now that you've learned about how to establish your flexible work purpose and principles, read on to part two — how to establish your flexible work guardrails.