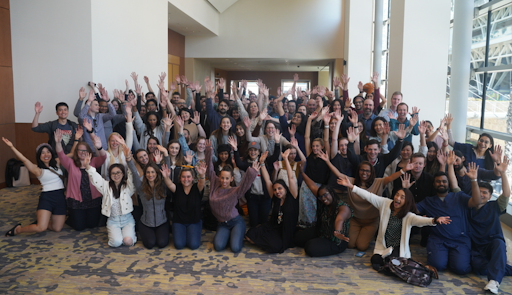 How Datavant is beating the Great Resignation to achieve "minimal regrettable turnover"
A well-defined growth-oriented culture and intentional onboarding has proved a winning talent retention strategy for this health software company.
In the age of the Great Resignation, Datavant is cracking the code on retaining its top talent.
The health data software company, founded in 2017 and originally headquartered in San Francisco, had embraced an office-centric culture before the pandemic. But midway through 2020, the company pivoted to reenvision its operating model as a distributed, remote-first organization—a departure from many companies at the time that were declaring a temporary remote status.
Today, despite having onboarded the majority of current employees remotely, Chief People Officer Holly May is proud to say the company has had "very little regrettable turnover in the last year."
Cue the jaw drop. How has Datavant managed to retain its workforce during a time of such massive upheaval?
Holly says Datavant has intentionally nurtured organizational culture by clearly defining—and staying true—to its values. Here are four secrets to Datavant's success.
#1: Know and live your company's values
Before Datavant had investors, employees, or clients, the company had cultural values. Founder Travis May drafted the values in one of Datavant's earliest Google docs, pulling on his past experiences building and leading high-growth tech companies with strong performance cultures.
The "Datavant Way" outlines these values and captures the DNA of the culture. When the company underwent an organization integration project following a recent merger with Ciox Health, a consulting partner described Datavant as having one of the most intentional and crystalized cultures they had ever assessed.
Holly May joined Datavant about six months after the company was founded. Taking on the first leadership role to steward People and Culture, May worked to bring out the values through as many rituals, company processes, and employee activities as possible. Today, Datavant reinforces its values in a number of ways:
The first page of offer letters (see example here) features the text of the values, even before the financial terms of an offer. New hires literally sign up for these values.
Datavant employees are "smart, nice, and get things done," and interviewers assess these traits in scorecards when evaluating candidates.
In their first week, every employee attends an interactive 60-minute orientation about Datavant culture and values.
Company communications from leaders exhibit and acknowledge values in the regular course of business, like sharing company financials each quarter—showing a level of transparency that employees find extremely meaningful.
A "day in the life" of living your values
Chief People Officer Holly May explains what it means to be "smart, nice, and get things done" at Datavant
There is a strong default to autonomy, associated with the cultural value of "more responsibility and fewer rules." For example:
When an employee asks a manager for advice or permission, the single most common response from the manager will be, "What do you think we should do?"
The company intentionally has no formal expense policy. The mantra is "use the money prudently, and spend it like it's your own." The Finance team or a manager provides gentle coaching if an employee submits an expense that is out of line.
---
To embody the value "time is our most valuable asset and we never waste it," employees make the best use of their—and everyone else's—time. For example:
Frequent and open discussions of prioritization to ensure time is spent on the most impactful projects.
Shared expectation to do "pre-work" (prepare or read a memo) before each meeting.
Meetings are expected to end on time, and if they run over, people are encouraged to drop off with a note like, "Gotta hop to another call, bye all."
Before scheduling large group meetings, employees are encouraged to consider the productivity cost of tying up so many people in a single meeting.
---
A focus on speed of making decisions and "decisions per capita" fosters Datavant's growth-oriented, fast-moving culture.
Holly May says it's common for Datavanters to ask, "How are we making this decision? Who has decision rights?" and the company encourages this positive behavior.
"We're a place where every employee, from entry-level roles to executives, are expected and empowered to make decisions. In general, we operate with decentralized decision making, and there's not a lot of asking superiors for approval. We empower the folks closest to a topic to decide and then define specific mechanisms for sensitive decisions that might require escalation."  

Chief People Officer, Holly May
---
Datavanters embrace a spirit of curiosity and constant learning, including learning from mistakes and missteps. This helps amplify the culture of growth and development. Employees who thrive are often asking "why?" or questioning the status quo.
One team mines for learning by running retrospectives. These are small meetings to discuss what happened, what went wrong, what went well, and what they want to do differently following an incident or completion of a project. A 1–2 page document (see example here) capturing these is prepared and sent to an email distribution list that goes to the majority of the company. These are meant to be lightweight—less than an hour to draft and develop—and they occur in the context of fixing for the future. They are never about blame and finger pointing. As a bonus, these retrospectives are an incredible archive of lessons learned.
#2: Onboard with intention
Datavant has closely crafted the employee onboarding experience since the early days, recognizing that the first months on the job are absolutely critical for helping employees feel welcome and at home.
"Onboarding should be a curated experience that informs, inspires, and engages, not an admin checklist," says May. So in addition to the conventional admin tasks such as pre-hire screening, security and IT setup, and registering for benefits, Datavant has added distinctive informational and inspirational onboarding activities designed to help new hires relax, feel welcome and appreciated, and get to know their peers.
One cornerstone of onboarding at Datavant is that every new hire gets a meaningful project from day one that will challenge and stretch them. A few years ago, a new hire in Engineering made a mistake that brought down the production environment for a few minutes. That story became company lore because it showcases how new hires work on mission-critical projects. Holly May cites another example of a new hire who is currently leading the planning of Datavant's industry conference. Within her first few weeks, that hire jumped in to meeting with executives and rallying Board members to bring in luminary speakers.
Onboarding at Datavant
Datavant has meticulously designed the onboarding experience to welcome new employees, most of whom participate virtually. Managers are expected to invest in the new hire experience—from populating a template "guide" for new hires with learning goals and people to meet to providing personal information, such as preferred communication methods and working hours.
In addition, all new hires are "batched" into cohorts, and receive:
Weekly "new-hire nurture" newsletter campaigns on organization structure, client solutions, growth, and learning. These are pre-written and automated, making it a low-lift on the People Team.
Discussions of use cases and topics relevant to the industry such as work with Payers and Providers along with product-specific scenarios.
A virtual reading room provided upon acceptance of the job offer, with curated collateral for self-guided learning in advance of the employee's first day.
A peer buddy program that pairs new hires with veteran employees who serve as "culture anchors." These buddies are nominated and confirmed when the job offer is sent to the candidate.
"The buddy system connects new hires to a personal contact in the company for the inside scoop. It gives them a safe space to ask silly questions, and a person to have a few informal, social conversations with before they know a lot of colleagues."

Holly May, Chief People Officer, Datavant
In 2021, Datavant leaders took a hard look at onboarding after a retrospective exercise revealed the need to help early-career new hires feel comfortable asking questions and connecting with peers. This insight led Datavant to bring together a working group from the Engineering and People teams to design an in-person onboarding experience tailored to support new grads and summer interns.
In May 2022, Datavant brought 20 new hires together with 20 experienced engineers for a week of orientations and workshops, paying special attention to peppering in truly fun social events, like a hike, professional women's soccer game, and a flying trapeze class.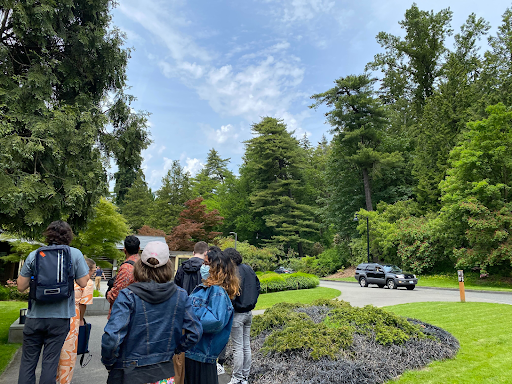 #3: In-person gatherings are for connection and camaraderie
After pivoting to a remote-first working culture in 2020, Datavant still sought out opportunities to bring employees together in-person in a meaningful way. Leaders determined that a leading objective for these face-to-face events would be to build social connections and camaraderie. And leaders are intentional about making that objective clear.
At a recent gathering of about 200 employees in San Diego, meetings to review the last quarter's objectives and key results were interspersed with table-top competitions to build towers out of dry spaghetti noodles and marshmallows. Attendees reviewed the following quarter's objectives and held a hackathon for innovation, friendly competition, and team building.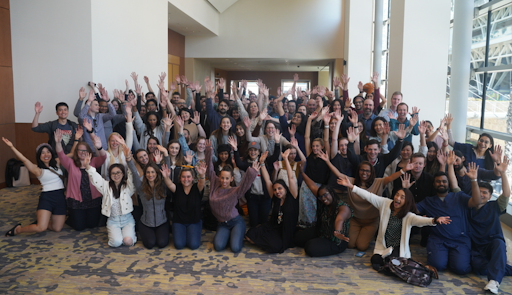 Note that unlike the packed agenda you might find at an industry convention, this gathering featured a balance of downtime, small group time, and time for fun.
"Each day there was at least one planned social activity—like rooftop tacos and sushi. Individuals added their own twists, like late night karaoke or early morning kayaking," explains May, noting that the company sets aside a budget earmarked specifically for travel and entertainment to enable these employee experiences.
This intentionality makes a lasting impact on employees.
Datavant Software Engineer Lead Kaylynn Crawford initially worried that joining a fully remote company would make it difficult for her to get to know her colleagues. But Datavant's commitment to regular employee offsites "sets a really good balance," Crawford says.
In her first seven months on the job, she attended three in-person employee gatherings—from the above-mentioned hackathon to hosting an industry conference—meeting more than 100 of her fellow colleagues in person.
"I find that the team puts a lot more intention into making connections with each other than we would in an office setting at these events. You can bond and interact with your team and others, where you'd probably just say 'hi' to them in passing and be on your way in an office."

Kaylynn Crawford, Software Engineer Lead, Datavant
#4: Recognize your strengths and weaknesses
It's critical to know who you are as a team and as a business. May explains that the company intentionally seeks to recruit humble, curious, and hardworking colleagues who enjoy getting things done. Being self-aware of that is a huge leap toward meeting both company and individual goals.
"When we hire, one of our biggest assets is the clarity on who we are: we're the best place in the world for professionals who want to learn every day, who value growth over mastery, and who want to work with exceptionally talented colleagues on a challenge that impacts healthcare," says May. "Yet, we're not the right place for everyone at all times and we try hard to communicate that through our recruitment process. And there's no shame if we're not the right fit."
May's People Team tracks statistics on offers extended along with the reasons they are won or lost. The vast majority of offers are accepted.
But knowing who you are also means recognizing your weaknesses. "It's true, we know we don't celebrate our success enough," Holly says. "We're always looking at the next mountain to climb rather than savoring the accomplishment behind us. But we're aware of it, and we're working on building cultural celebration moments for various milestones—and recruiting fun-loving people who can help us get there."
The company recently added a Friday celebration on Zoom called "Gong Time" to acknowledge recent wins in sales and other teams. The name stems from a similar ritual dating back to the early days of the company. When they were office-based in San Francisco, the team would huddle and ring a giant gong in celebration of a new feature shipped, new hire won, or a new sales deal closed. Now adjusted for a distributed, remote-first organization, attendees are encouraged to come off mute after each announcement and make noise.
One key to understanding who you are and who you aren't? Gather regular feedback from employees.
Datavant solicits candid feedback from employees with regular pulse surveys via Lattice and Ask-Me-Anything (AMA) exercises in Slack channels.
In one recent instance, CEO Pete McCabe asked the full audience on Slack, "If you are in my shoes, what is the most impactful action you would take to advance the cause of adopting a 'Day 1′ mindset—why and how?"
Day 1 is a concept inspired by Amazon that places a deep focus on customers, curiosity, and innovation. It's a concept that the Datavant leadership team embraces and discusses often. Within 30 minutes, there was a lively conversation on Slack in response to McCabe's question.
At many companies, the People or HR teams own new-hire onboarding and culture. But at Datavant, says May, this responsibility is shared by the People team, executives, and all managers—and, ultimately, infused across the company.