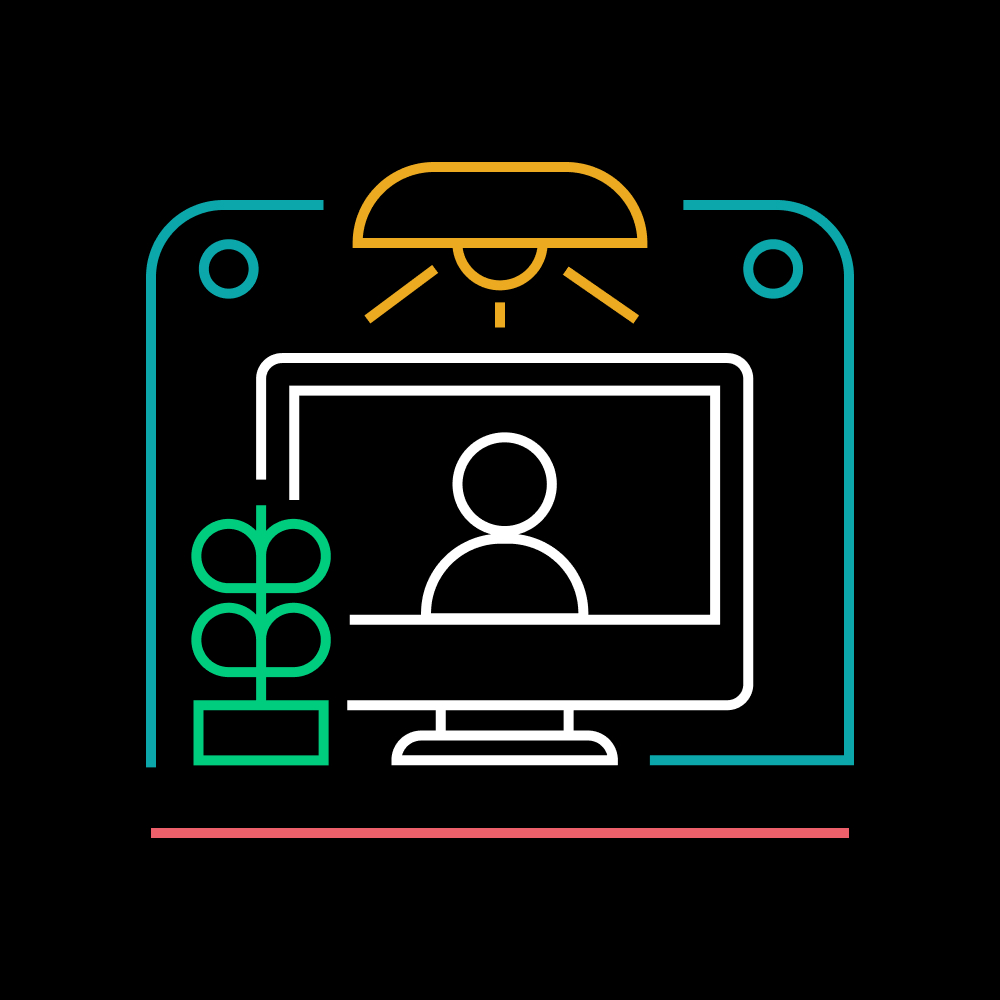 Creating office space flexibility
Understand what employees need from their physical space and build in processes for feedback and continued prototyping with teams
Posted December 22, 2020 by Helen Kupp
As leaders start planning for the post-pandemic employee experience, many are asking themselves fundamental questions such as: "Do we still need office space?" If so, "What shape should it take, and how do we use it wisely?"
Whatever office plan you decide on, know that the first solution is not likely going to be the best. Office space needs will likely change based on team dynamics, personal circumstances, peoples' sense of safety, and their willingness to commute back into the office. And, there's just a lot that we're all still learning about how to flex and shift infrastructure—technology, office space, processes, policies and so on—to support a more flexible way of working together.
Experimentation, tracking how often spaces and why spaces are being used, and getting feedback from employees along the way is key to finding what works long-term. This is true of the pre-pandemic workplace and will become even more important as organizations try to understand what the new normal will be post-pandemic. So, where do we start?
Think through the core "modes of work" for your organization
To start building the capacity to experiment and be flexible, be sure to think through what "modes of work" teams will need, and how frequently teams and individuals will be in each of these modes. For example, sometimes people need uninterrupted time to focus on work that requires deep thought. At other times, they need coaching or teaching moments with managers.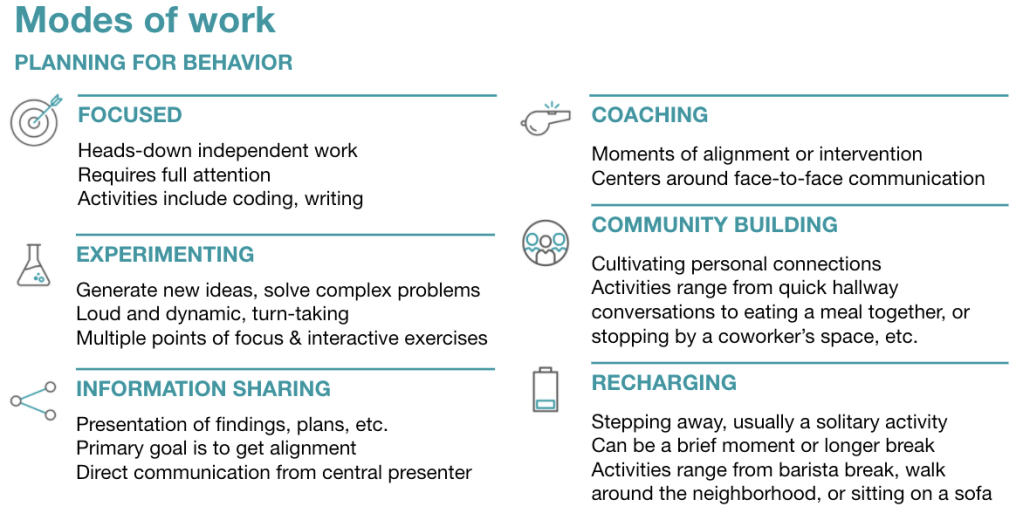 Understanding how teams prefer to work will help you make smarter decisions about the spaces that will be the most supportive and how the organization intends to accommodate those spaces into a more holistic workplace ecosystem. For example, Dropbox has determined that most "focus" work should take place in the home, so they are making additional accommodations to ensure proper, ergonomic set-ups for that to happen.
Match space to behavior
Be intentional about matching physical spaces and rooms to work behaviors, whether that is in the office or supporting employees at home, as in the Dropbox example above.
At most companies, conference rooms are a catch-all for various types of interactions and modes of work. Being more intentional about the types and size of rooms you provide in offices can start with looking at the distribution of meeting size across the company. For example, if you see that most meetings involve an average of 3-5 people, but see that your conference rooms tend to accommodate larger boardroom types of gatherings, you might consider creating new space types or breaking up bigger rooms to better utilize the space you have.
Customizing rooms to fit behaviors will require changes to the physical environment, but they can often start with simple steps such as switching out the furniture. Think about tailoring rooms as changing both size/capacity and accomodations/furniture.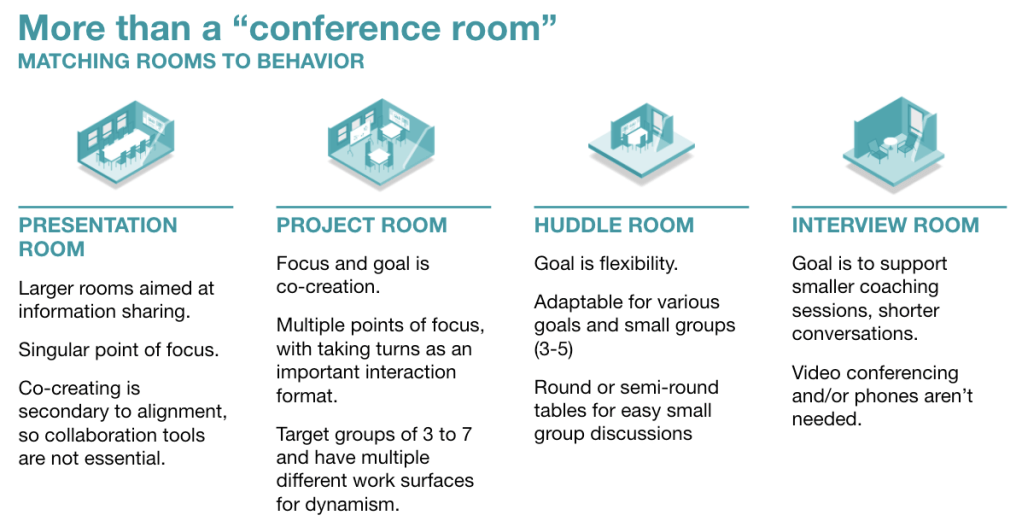 Similarly, if you anticipate that many employees will be primarily engaging in focus work away from the office, find ways to support employee needs like creating a stipend for a more ergonomic home setup, or for accessing a local co-working space.
Be creative with creating adaptable interiors
Remember: using office space wisely will take experimentation and iteration as employees return to the office after the pandemic. Continuous improvement is something organizations need and the pandemic presents an unprecedented opportunity to initiate these ongoing improvements. The ways in which teams and departments work with one another in organizations are always changing, but it will be especially important to be open to prototyping and testing as employees return to the office having worked remotely for so long.
Do this by creating adaptable interiors that can be used to create different space types.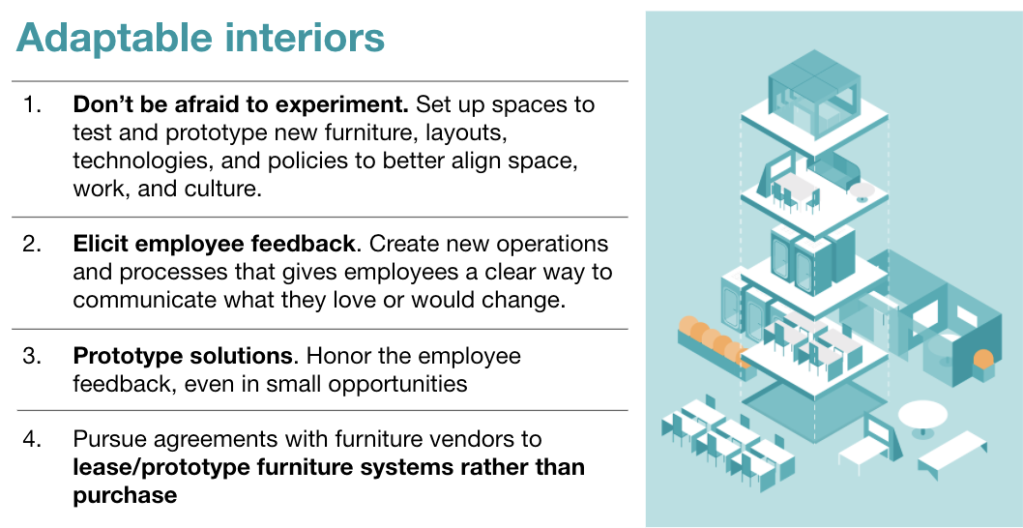 Build in processes to get feedback and continue prototyping
Understanding how people are working and deciphering their true needs is critical, but can often be difficult because employees rarely tell you what new office layout or furniture they need for optimal work (unless it's requesting the corner office with the city views). Instead, organizations need to find different ways to collect information about what is and isn't working with the space they've designed.
To do this, you can use a combination of quantitative data and qualitative data to understand how people are working and what they believe makes their teams most successful. Gather data about meeting sizes, formats, duration, and frequency. Pull information about office space utilization. And, actively speak with different teams and stakeholders to understand how each team works with one another, how they have adapted during the pandemic, and how they would like to work together in the future especially if one or several team members may not be in the office at the same time.
Protip: Understanding space requirements is usually not as straightforward as asking someone "what type of furniture do you need to get your work done?", because the answer usually becomes: "all the things". Instead, use games and exercises to help teams prioritize space needs.
For example, we've created a game where a team is given a set budget and a list of different types of spaces (workstation, open collaborative space, small conference room, office, etc.) with associated cost based on realistic ratios. The team is then asked to prioritize how they would spend their money based on the spaces they need within the office to be productive. Listening to their conversation during the game as well as how they spend their money is one of the best ways to understand collectively what they feel they need to get their best work done.
There's no doubt that employees need more flexibility. Start a conversation around how different teams work with one another, to determine the type of environments they need to get that work done. And, establish business practices that support flexible office spaces, even to the point of revamping agreements with furniture vendors to focus on leasing and prototyping versus purchasing.
Regardless of how your office of the future takes shape, a tremendous amount of change management will be required. There's no doubt that the workplaces people left pre-COVID will be fundamentally different from the ones they return to. The good news: this is an opportunity to reinvent the traditional office space for the better.
---
This playbook is brought to you by our contributing experts:
Evelyn Lee, AIA has over 15 years of experience working with individuals and companies that are looking to reshape their future as a design strategist and workplace consultant. She is a Senior Experience Designer at Slack, helping guide conversations around the future of their workplace.
Willy Mann has spent the last eight years working with organizations as a design strategist and experience designer to better align spaces and behaviors, creating more fulfilling experiences. He is currently an Experience Designer at Slack, helping to reimagine the future of the workplace.