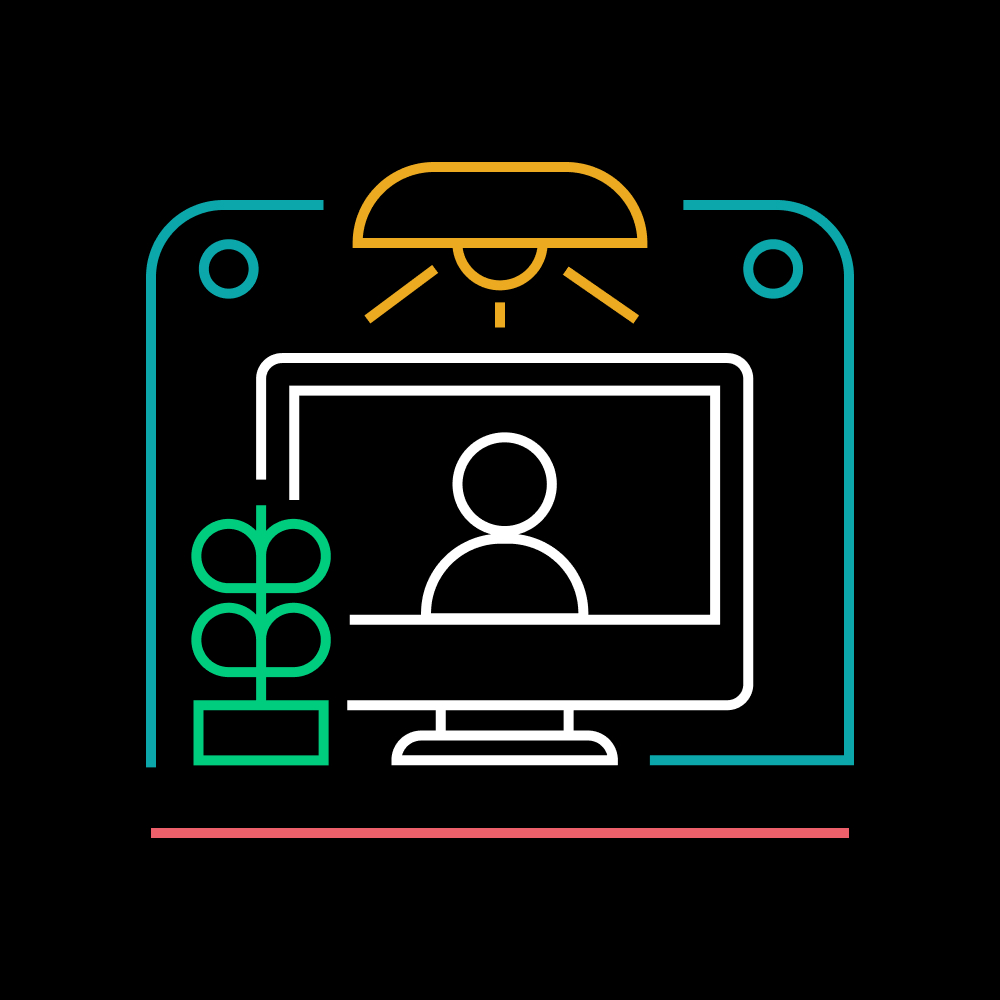 What are core work hours?
Giving employees more control over their schedules leads to higher productivity and deeper engagement. Here's how to do it.
Posted June 30, 2022 by Anna Brown
The data is clear: Employees want flexibility not only in where they work, but also when they work. But for leaders accustomed to the old 9-to-5 office-centric culture, schedule flexibility can feel like new territory that may have you scratching your head wondering, How in the world do we implement this?

Take heart, a flexible schedule is not the same as having no schedule at all. Team members still need pre-set time to work together to collaborate, debate, or tackle complex decisions. But on the other hand, that doesn't mean they should fill the entire workday with back-to-back meetings, leaving no time for solo, focused work.
"Schedule flexibility doesn't mean a free-for-all with no structure. Flexibility only works with predictability. What employees want is flexibility within a framework."

-Sheela Subramanian, VP, Future Forum
Future Forum Pulse data shows that two-thirds of global knowledge workers prefer what we refer to as "flexibility within a framework"—a predictable schedule that allows for the autonomy to make adjustments day over day. To meet that demand, what we've found works best in most cases is for teams to set what's called "core work hours" or "core collaboration hours" as part of your team-level agreements.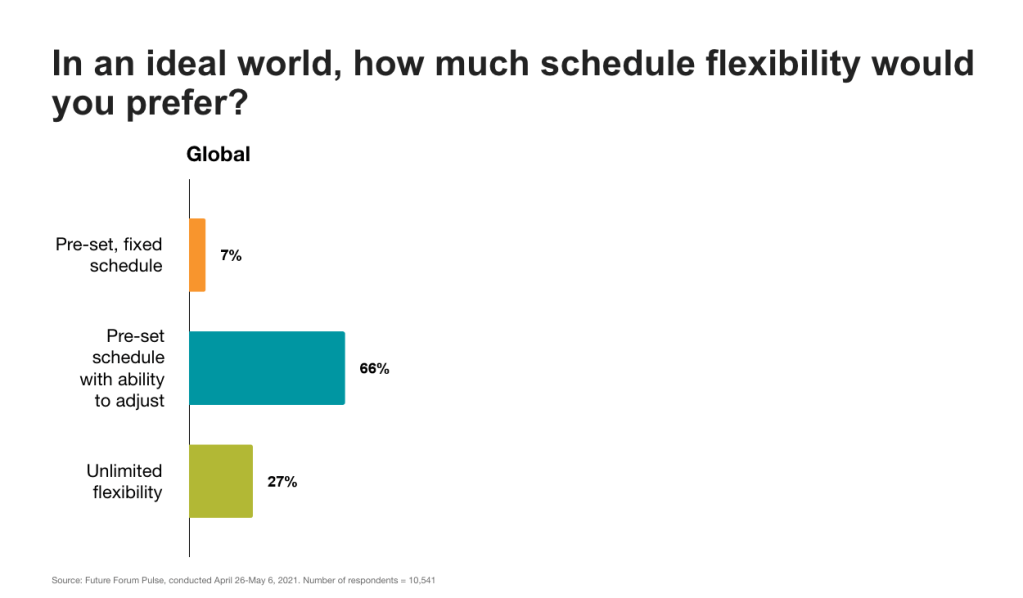 Core work hours, defined
A pre-designated timespan when team members agree to be "live" and available to one another for meetings or feedback, allowing employees the flexibility to adjust working hours during the rest of the day.
Human communication is inherently "bursty"—meaning that it naturally alternates between periods of high activity and periods of little to no activity at all, assert researchers Anita Woolley and Christoph Riedl. As the duo explained to the Harvard Business Review, "Our research suggests that such bursts of rapid-fire communications, with longer periods of silence in between, are hallmarks of successful teams."

By scheduling shorter bursts of collaboration time (versus the standard office norm of "working hours from 9 to 5"), you unlock a lot more productivity. In the Spring 2022 Future Forum Pulse, employees with access to flexible working hours reported 20% higher productivity than employees with pre-set, fixed schedules.
---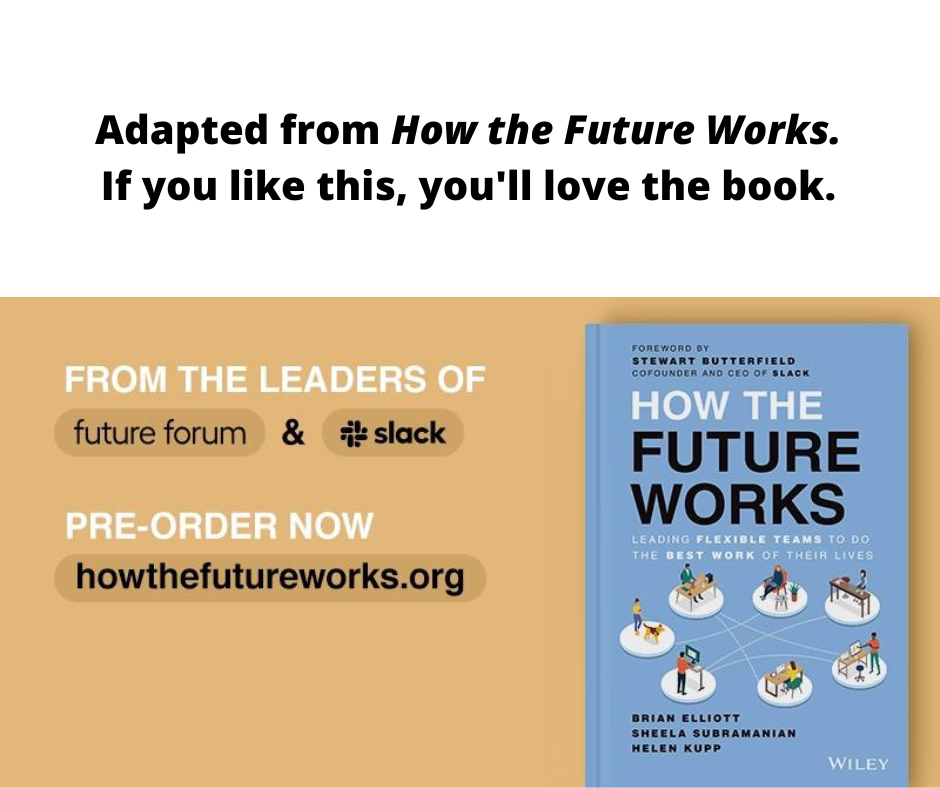 ---
Benefits of core work hours
Working together with your team to set core work hours is far more inclusive of all working styles and life circumstances, allowing employees to devise their own non-linear workday to best suit personal and professional needs. Parents can pick up kids from school, and night owls or early birds can time their focused, solo work to the hours of the day when they feel most alert. Core hours also reduce the meeting load, eliminating the risk that too many meetings will cut against your employees productivity and wellbeing.

Future Forum research shows that knowledge workers who say "I spend too much time in meetings" are 38% more likely to experience burnout. And employees who say, "I feel pressure to let my colleagues know I am 'at work' and being productive" and "I feel pressure to respond to messages quickly, even if they're sent after standard working hours" are nearly twice as likely to experience burnout.

When Dropbox instituted core collaboration hours as part of their flexible work strategy, Chief People Officer Melanie Collins explained the initiative to employees in this way:
"The intent of this setup is to encourage non-linear workdays where employees gain more control of their time and have more time for things like deep work."

-Melanie Collins, Chief People Officer, Dropbox
How to get started with core work hours
When deciding the optimal window for your team's core work hours, consider:
Team members' various time zones. (First thing in the morning East Coast time isn't going to work well if you have team members on the West Coast or different time zones around the globe.)

Individual preferences for morning or afternoon meetings. (Are some team members parents whose children will be home from school in the late afternoons, making collaboration more difficult? Are some simply not morning people, making a midday collaboration more effective?)

How much individual, focused work versus collaborative work do team members require? Teams that do a lot of solo work may need fewer core work hours and may even want to set aside one or more meeting-free days during the week.

Remember, core work hours don't have to be the same every day; In some cases, your hours may vary early in the week versus later in the week, depending on the needs and wishes of the team.

Other key areas to consider when deciding on schedule norms are:
Do you need or want to craft a separate norm around dedicated focus time (not just core work hours)? Some teams appreciate being as explicit as possible to avoid the potential for misunderstanding.

For example: "We prioritize and dedicate two-hour focus time blocks from 1 p.m.–3 p.m., every weekday."
As another example, Slack has created Focus Fridays and Maker Weeks as designated longer windows of focus time for employees.


Can you be more proactive about preventing focus time distractions?

For example: "We default to 'notifications off' during non-core collaboration hours or focus time."


Can you minimize the pressure to be "on all the time" by being intentional about your expectations for response time?

For example: "We set clear expectations for who needs to respond and when, and we reserve off-hours escalations for truly urgent issues, via text or phone call."
Examples of core work hours
When Dropbox introduced core work hours, senior leaders had concerns, like: "How will I be able to meet with people in different timezones?" and "How will I condense eight hours of meetings into just four?"
Core hours needed to be aligned to time zones, for example, a window of 9 a.m. to 1 p.m. on the West Coast synched with noon to 4 p.m. on the East Coast, which meant that everyone could collaborate during a reasonable timeframe but still allowed flexibility in the schedule so people could have lunch with a family member or pick up a kid from soccer practice.
Dropbox VP of Design Alastair Simpson laid core hours out as an infographic, and the concept instantly made sense: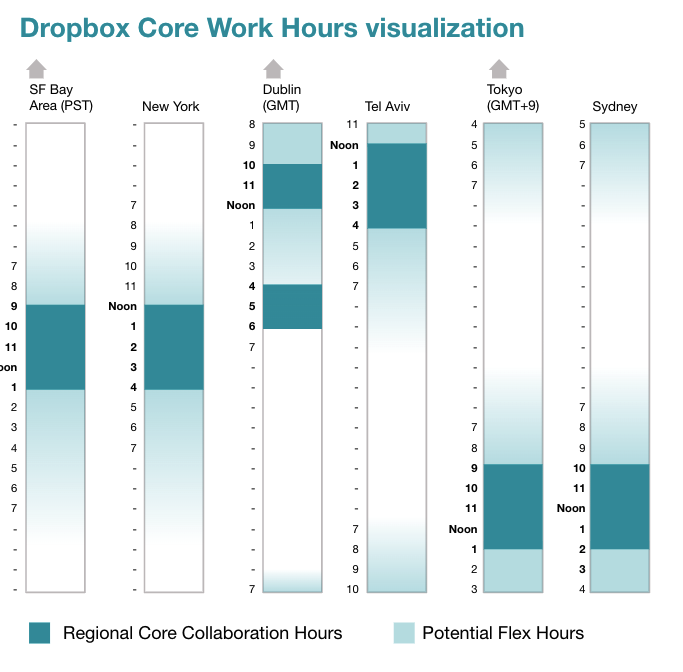 Norms around core work hours could show up in your team-level agreements in several ways:

As a team, we have the following norms around our schedules . . .
Core work hours: We expect team members to be available for in-sync work between the hours of 9 a.m.–1 p.m. PT, Mondays through Thursdays
(This is an example from the Future Forum team balancing West Coast and East Coast members.)
Or, for global teams:
Core work hours: We expect team members to be available during four-hour windows each day for synchronous collaboration, aligned to timezone.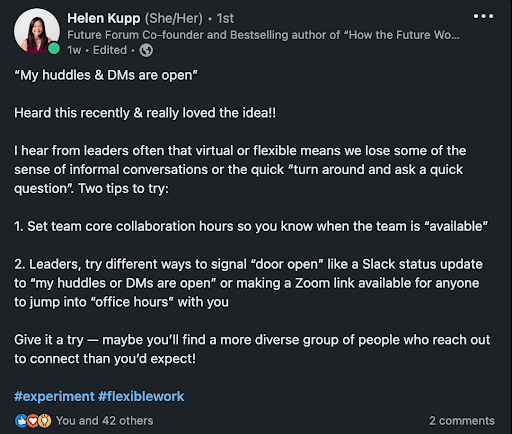 Core work hours resources