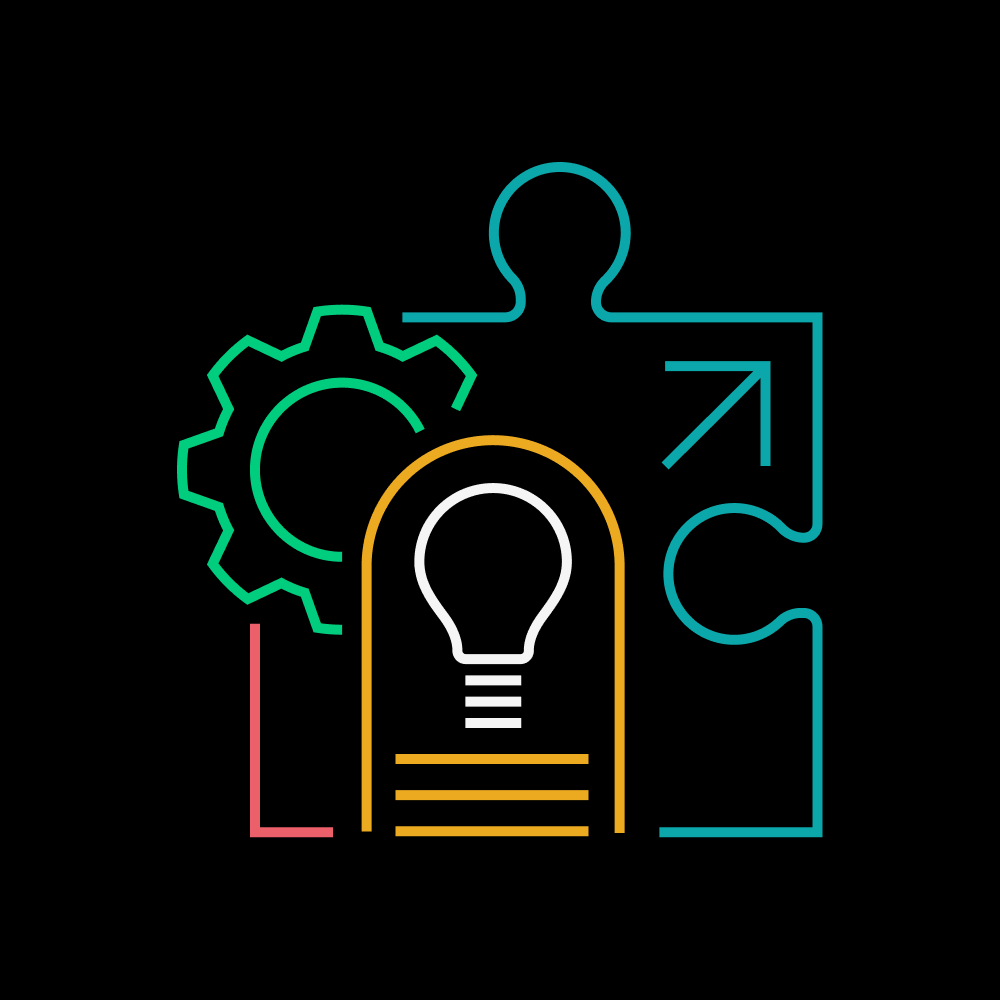 Create a digital HQ for your team
Centralize information and work in a digital tool to seamlessly connect distributed teams
Posted November 10, 2020 by Helen Kupp
Summary
Modern digital tools not only help to centralize information for distributed teams, but improve sense of belonging. Make it easy for your teams to stay aligned and connected anywhere, anytime through these simple tactical actions.
Top 4 takeaways
Communicate in broad forums: use global or company-wide forums to communicate everything from announcements to mission and purpose.
Create team spaces: make it easy for teams to stay aligned on top projects, connect their most critical tools, and focus their attention.
Share decisions back into digital channels: document offline decisions and discussions to make information accessible to everyone, everywhere.
Build social communities online: create digital spaces for employees to connect over shared experiences or interests.
---
Background
Traditionally, the company mission, vision, goals, and priorities were communicated during meetings and events. However, with increasingly distributed teams, office and in-person meetings are no longer the best way for information to flow freely among teams, or to keep employees aligned on the most important and recent updates about the business. Instead, organizations need to use digital platforms as their headquarters to connect everyone, everywhere.  Our research shows that companies who are tech leaders or who utilize digital channels for weekly status updates instead of live meetings, for example, actually see a positive sense of belonging.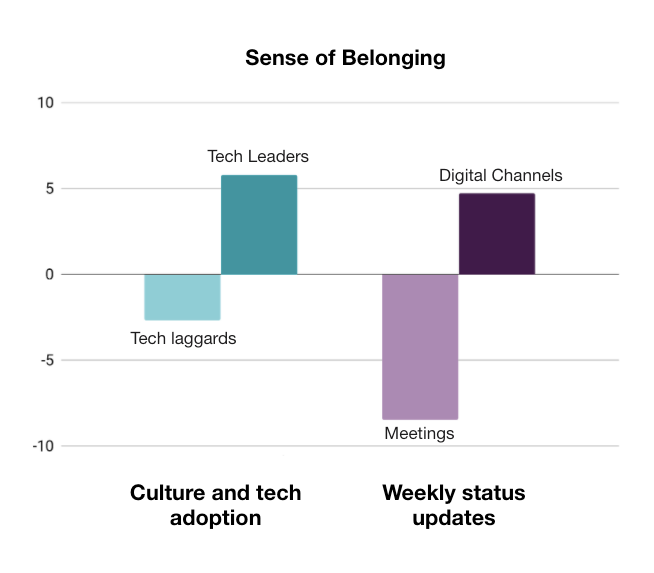 Get aligned in broad company-wide digital forums
Distributed teams, now more than ever in the world of remote working, need to be anchored around shared purposes and common goals. Start by communicating company mission, vision, goals, and priorities through global digital channels. Broadcast information widely to ensure that everyone is aligned on the same set of information. For instance, you can share out both rich multimedia video as well as written summaries using an #announcements-global Slack channel or create an all@company.com email alias as a central communications conduit.
Use these global channels as a way to send regular business updates, including weekly business metrics, announcements, and team updates from around the world. Record all-hands presentations and share them directly in company-wide digital forums. This not only ensures that everyone has a common context, but also leaves behind a record that can be consistently and accurately referenced, minimizing the chances of messages getting lost in translation.
Pro tip: Offer a place for questions and discourse (not just broadcast) by using communication tools to capture Q&A from these updates. For example, at Slack we use #slack-ama to capture and answer employees' company and leadership questions that can range from clarifying our quarterly earnings, to following up about our own plans to transition to remote work. Alternatively, you can capture ongoing Q&A in a wiki-like tool like Confluence or Notion.
Why is this so crucial? In a global survey of executives by HBR, 89% felt that a strong sense of collective purpose influences employee satisfaction, 84% linked it to their organization's ability to transform and 80% stated that it actually helped to increase customer loyalty. More importantly, having a clear sense of company purpose and goals increases overall alignment in the organization. When people are working from anywhere and executing on more independent-focused work, maintaining alignment becomes crucial to ensuring that everyone is working on the most important projects.

Build a home for every team and project
Every team needs its own huddle area to be effective. Make it easy for teams to create their own digital space for working together, whether a Slack channel, a shared drive, a JIRA board or some combination of the above. Teams need a way to share work, give feedback, and focus their attention to the project at hand.
Project- and team-specific spaces also make it easier for people to sort through information, find team experts, and catch up on the latest team and project developments.
Teams are often working in multiple tools at once to get things done. Utilize a collaborative platform that provides good integrations to your team's core tools to minimize context switching. Our Future Forum team, for example, pulls everything from metrics to Asana tasks to Google Doc updates straight into Slack so that we can focus our time in a single tool when in deep work.
Share information and decisions back into digital channels
Make digital the source of truth for organizational knowledge by taking offline information or decisions and sharing them back broadly into digital spaces. This practice makes the information accessible to people who couldn't participate in the meeting. And, it ensures that everyone walks away with a clear and aligned understanding of decisions and next steps. Transparency also is a key attribute to healthy cultures — it enables people to understand the context of decisions, and focus on making progress against goals.
Record as many meetings as possible using tools like Zoom or Loom. Transcribe key highlights and next steps and share back into digital channels for ongoing reference. It's a great way to create a common knowledge base that helps keep employees on the same page. Aim for broad, public sharing of information. Default to public channels, public wiki, or larger email aliases with broad reach. Reward people for sharing information versus keeping it to themselves.
Pro tip: Make it easier for teams by favoring software tools that "default to public." While it's important to be able to share some information privately, "default to public" ensures greater transparency overall and enables teams to act with more agility.
Socialize online
Headquarters is more than just about projects, tasks, and updates. A big part of work is connecting with coworkers and building relationships. Rather than rely on proximity to get to know coworkers, create space digitally for people to connect on shared interests and experiences. This can be as lighthearted and organic as social channels (e.g. #social-yelling, #watercooler, #dogs, or #cats) or as formal as Employee Resource Groups. Experiment with tools that can help facilitate connection building like using Zoom for drop-in coffee hours, Icebreaker for kicking off team meetings, or Donut for randomizing your coffee pairing each week.
Pro tip: Don't overthink it. Sometimes socializing online is as easy as setting a fun prompt for everyone to share. The Future Forum team uses the /remind function in Slack to prompt our team every Monday morning to share our top priorities for the week and a giphy that best encapsulates how our weekend went.
Above all: remember that digital headquarters level the playing field by providing open access to all employees, contractors, and the extended organization, providing an opportunity to connect everybody and create a meritocracy in which everyone has a voice.