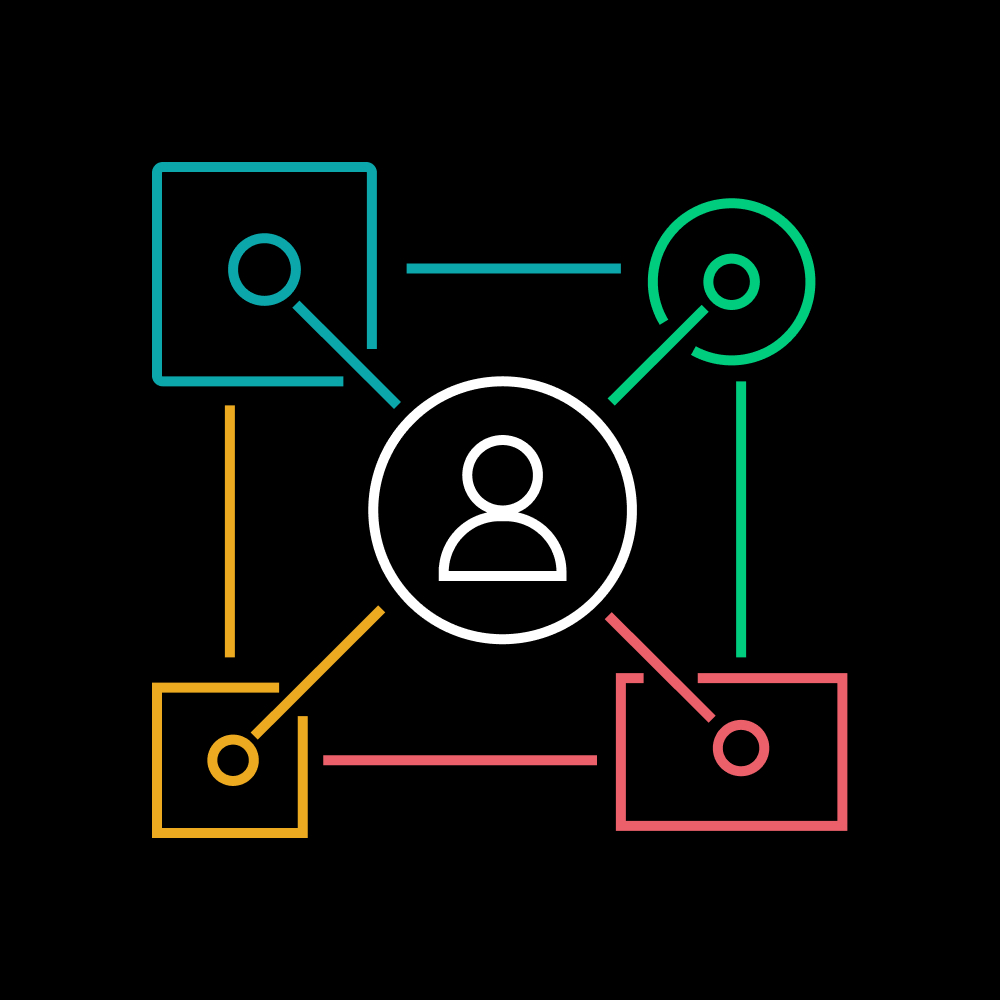 Consider changing up your team offsite this year
The new year is the perfect time to redesign the events that bring your people together
Posted January 15, 2021 by Sheela Subramanian
Key takeaways:
When planning for your team's virtual offsite, leaders need to ask themselves four questions:
How can I be sure attendees will be comfortable and motivated?
What's the topic and what do we need to achieve and produce?
Who will facilitate the event and how?
What tools will we need?
In this playbook, we'll offer a few tips for pulling off a team gathering that leaves your employees aligned and inspired about their work ahead in the coming year.
---
It's January, which means for many, it's offsite season. While the ritual may remain, the traditional offsite looks a little bit different this year, and some of you may have rebranded them as "homesites" or "Zoomsites." With the shift in the format of this annual event, the new year is an opportune time for leaders to reconsider the intention and focus behind them.
Traditional, in-person offsites were often heralded as an expensive, but necessary, annual exercise, as they were a great way to foster social connection and trust across the team. You probably used to fly the entire team to a city and spend days together giving presentations and conducting team-building and feedback sessions. You may have volunteered in the community, kayaked, ate barbecue, or experienced any number of fun activities together. Mixing fun with business was an effective way to build team cohesion and camaraderie.
In this new virtual world, offsites require more than a "lift and shift" of past practices to all-day presentations and virtual happy hours. Entire days in front of a screen do not foster flexibility for working parents, especially if they are caring for children or aging parents. They also do not allow people time to focus or think deeply and creatively about the task at hand without interruptions, leading to decreases in productivity. Offsites are historically intended to be a platform for sharing information and fostering social connection; the current lengthy virtual, real-time format filled with virtual presentations serves neither purpose.
Make sure attendees are comfortable and motivated
But, now's not the time to cancel your offsite. Our Remote Employee Experience Index shows that "sense of belonging" is down among knowledge workers in this remote working environment. People still crave dynamic interactions as a way to drive belonging; your virtual offsite can achieve that.
Set your purpose and intended outcomes
Before you even jump into an agenda, first ask yourself and your small group of planners: why are we hosting this agenda in the first place? The list can be lengthy, from aligning the team around a vision to fostering social connection, but I encourage you to pick one business objective and one culture objective. Narrowing down your purpose helps you craft your agenda in a meaningful way, and enables you to say "no" to extraneous sessions.
If your purpose is to align your team around your fiscal year plan and foster social connection, then be clear and defined about your outputs.
The role of a manager is to celebrate outcomes over activity, and your offsite is the most appropriate way to model that behavior. Define 2-3 outcomes that you expect the team to deliver against. Offsites need to be more than just information sharing. A set of principles or a prioritized list of initiatives for the year needs to come from the time you spend together. Hold yourself and your team committed and accountable to those outputs.
Set your intention to be comfort-centric, rather than business-centric
Comfort-centric? What's that? As you start to frame your agenda, consider what you want your team to know, feel, and do coming away from it. In a virtual world, double down on the "feel" component. Build in breaks to aid comfort, pre-order delivered meals to their homes, and encourage your team to sit in different settings in their homes, depending on the task at hand. If it's a personal icebreaker, perhaps they can comfortably sit on a couch. If it's a whiteboarding activity, encourage them to stand and walk around.
Given the number of distractions that one can experience at home, plan for that, embrace people's circumstances, and set up a buddy system to keep them on track. During a recent offsite by Slack's Technical Program Management (TPM) team, employees were encouraged to post their circumstances in their offsite channel with an estimated "return to focus" time. They were also requested to @ mention a buddy to help them get back up to speed during that time. Setting up processes to show vulnerability—encouraged and modeled at the leadership level—helps build trust and camaraderie across the team.
And speaking of comfort: context switching between tools can be pretty uncomfortable for folks. Pick three tools maximum to run your offsite: for example, Zoom for the meeting, Slack for conversation and pulse-checking, and Mural for whiteboarding. Use these tools to record your presentations and build an artifact to enable people to revisit the topics that are most relevant and interesting to them. An influencing factor for choosing tools might be ease of use and familiarity with them.
Pro tip: Be sure to record all presentations as a way to provide a lasting summary of any important decisions or policy changes for those out on leave to review.
Lead from the front; empower a facilitator to do the rest
Leaders play dueling roles in meetings like team offsites, from time keeper to ultimate decision maker. Your offsite focuses on specific outputs, so it's instrumental that you focus on being a responsible voice in the room, enabling psychological safety through discourse and debate, and leading the team to a plan.
With that role in mind, leaders should consider assigning a "facilitator" role to serve as a neutral voice. The facilitator will guide debate and discussion so that you can ensure that decisions are made. Make sure the facilitator encourages quieter voices in the room to speak up, and ensures that the agenda stays on schedule. You can volunteer someone on your team to be the facilitator or bring someone in from outside of your team or company walls to serve as that neutral third-party.
Pro tip: Appoint a facilitator and note-taker so that managers and individual contributors can focus on the conversation. Ensure that discussion points are posted back into the broader digital channel.
Just because the offsite is virtual, it doesn't mean leaders should take it any less seriously. In fact, just the opposite. In a virtual setting, advance preparation on the part of leadership is vital. Don't be afraid to ask the team to put some "pre-work" into the offsite, including reading through presentations or memos.
Optimize for social connection over fun
Virtual happy hours or terrarium-making classes are fun, but they may not be the best way to get to know one another through a screen. As you frame your culture objective for your offsite, consider breaking up your day with "icebreakers," encouraging people to get to know one another better, such as an overview of one's operating manual or personal journey. Use this time for people to speak about themselves outside of work and encourage your team to focus, listen, and ask questions.
These icebreakers don't need to be hours long; pepper these sections into your offsite agenda in short chunks. Give team members three minutes to speak about themselves and two minutes to answer questions. Your facilitator should be responsible for keeping timing on track and randomly selecting participants for each section (randomized selections prevent people from nervously prepping before their pre-assigned presentations).
Building a virtual agenda is comparable to composing a concert
Crafting an agenda ought to be proportionate to the returns that you seek from the event. A large attendee list, or a discussion requiring big decisions to be made, likely means the plan for the offsite needs careful consideration. The facilitator and the leader should work together to ensure the event is set up for success and the group will be able to reach its goals.
A virtual offsite plan and agenda will not look the same as a co-located one. The considerations must include time-zones, tooling, access to the digital platforms that support the event, relevant meal logistics, but most importantly the agenda must remain captivating.
As Elizabeth Beddiaf of Slack's TPM team puts it: "Building the virtual agenda is comparable to composing a concert, and each agenda topic is a song to be played with its own beginning, crescendo and conclusion." In this scenario, the facilitator is the composer and the orchestrator of the event itself.
To take Elizabeth's analogy a bit further: each part of the agenda should ideally "undulate like sound waves." For example, as each topic elapses, consider making the next one lighter, or more social. Injecting an icebreaker in between each working topic breaks up an otherwise long and dense discussion. Alternating back and forth across social or "light" topics and more challenging topics keeps the day varied and the interest piqued.
By the time the day is over, you will see the event has been composed to resemble peaks and troughs of attention or direct attendee involvement. Genuine interest and attention are paid when divergent thoughts open up in a topic or during engaging icebreakers. Attention and involvement may dip during the necessary periods of context-setting or presentations. As Elizabeth puts it: "Done correctly, those moments bring the stillness back to the composition."
Be open to experimentation and remember: feedback is never a bad thing
Many of us are doing this for the first time and as stated throughout, this is a perfect opportunity to re-think how you're bringing your teams together.
If you're heavy on the presentation front, consider an asynchronous format to the offsite and record and post presentations for asynchronous consumption. With asynchronous components, it's possible to enable conversion, Q&A, and discussion around each presentation through digital platforms, either as a group or through one-on-one, direct message conversations.
Pro tip: Consider brainwriting, not brainstorming. Group brainstorming can often create social anxiety, if people—especially those who are more introverted—are worried about others' views of their ideas. Group sharing, too, is limited by only being able to express one idea at a time. Instead, start by having individuals record their ideas on paper on their own without judgement or bias. Only combine and share the ideas after all input has been recorded.
At the start and end of each day, ask people how they are feeling. If you use Slack, they can capture their sentiments in emoji form. At the end of each day, send out an anonymous survey that aligns with your objectives: did this day meet your expectations for your business and culture objectives? If not, what was missing? If you are hosting a multi-day offsite, address feedback as you kick off the following day.
Layering these four considerations across your offsite planning will support the goal, the facilitator's efforts, and the team's ability to collaborate effectively so you can make the most of your event. Consider your team as your "customers" as you plan your upcoming offsite. What are opportunities to surprise and delight them? How can you focus on their comfort as you craft the agenda? Taking these simple steps around attendee comfort, tooling, outcomes, and facilitation methods will both set the tone for your business and drive a stronger sense of belonging among teammates in this new year.
---
This playbook is brought to you by our contributing experts:
Alex Shih, Staff Technical Program Manager at Slack
Elizabeth Beddiaf, Senior Technical Program Manager at Slack