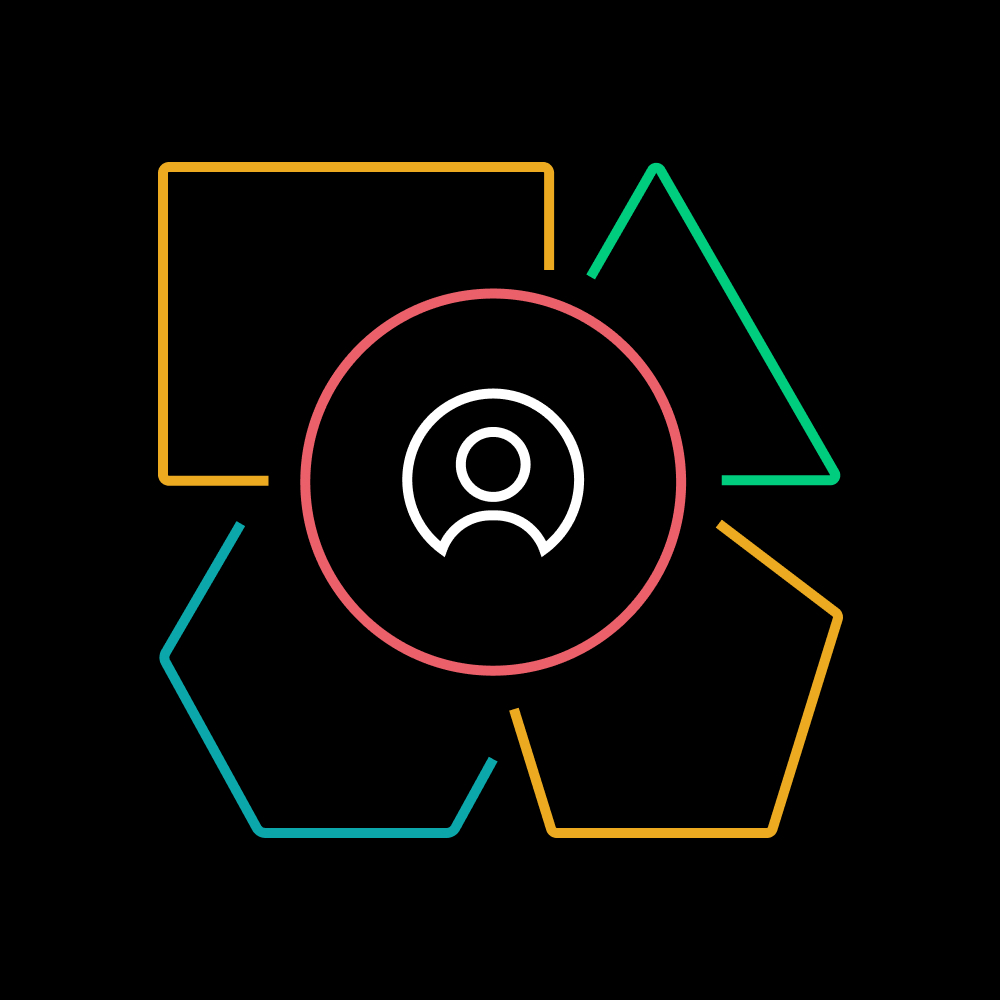 Employee Resource Groups (ERGs): Fostering community among distributed employees
Advice from top ERG leaders on how they build and support successful communities among distributed teams
Posted February 18, 2021 by Helen Kupp
Summary
Work has always been as much about building communities as it has about getting things done. Now that people are working remotely, employee resource groups (ERGs) have taken on a bigger role in helping people find a sense of belonging, network, and learn from each other. Here are several best practices from top ERG leaders to help you build and support successful communities among distributed teams.
Create or update your shared purpose: People come together better when they have a common passion.
Empower allyship: Be clear about what being an ally means and how they can support the community
Experiment with different ways to connect with members: Expand the ERG leadership to create more touchpoints for local communities, and take this opportunity to trying different formats for gathering
---
Struggling to find belonging
Although our research showed clear benefits to remote work this past year during the pandemic in the form of increased productivity, work-life balance, and other factors, we found that many people are struggling with building and maintaining a sense of belonging without having a physical space to congregate.
Without going daily into the physical office, we need community and each other more than ever, which is why employee resource groups (ERGs) have taken on expanded—and increasingly crucial—significance. ERGs have become a more critical part of helping employees build networks, learn from each other, and develop a sense of belonging at work.
"We've managed to redefine the purpose of an ERG or community. It's not just a place to go to feel safe, but also a place to learn, forge connections, and grow."

Brea Hall
Lead of Blackboard at Pinterest
In fact, for many of the ERG leaders we spoke with, the distributed work environment created a lot of new opportunities to experiment with innovative ways to foster a sense of community while broadening the ERGs' reach across the company.
"Not being restricted by geography means that an event that was typically going to cover the San Francisco Bay Area or New York can now be global. One of the cool things has been seeing people who aren't necessarily in one of the major hubs for tech come into the conversation. We've seen folks from Atlanta, Detroit, or Texas. You're getting this really great mix of people who are sharing ideas, and it has given a voice to those who haven't typically had that voice to date."

Alex King
Lead of Mahogany at Slack
We spoke with ERG leaders across Slack, Pinterest, Twitter, and Workday to understand: How did you make it work? How did you successfully create a stronger community while everyone was working remote?
Bring the community together with a shared purpose
Focus on the why. Many ERGs pivoted over the course of 2020 from primarily focusing on recruitment to more community-building and engagement as members sought out a safe space to share, and a place to belong. ERG leaders have an important job in ensuring that their mission and purpose is clear and resonates with the needs of their communities today.
"The most important thing that came out of this year was figuring out what is our purpose, who are we here to serve, and how are we doing that."

Brea Hall
Lead of Blackboard at Pinterest
On top of that, a shared purpose drives increased collaboration, communication, and community — this is no different within employee resource groups. When you bring people together over a common shared purpose, the community can lean into the topics and projects that they're most passionate about.

"We brought everyone together in our very first member fellowship meeting…and it was really like a family coming together. Everyone's really passionate about sharing what they've read or are working on to improve inclusive products."

Briana Mosley
Lead of Inclusive Products at Workday
Be clear about what allyship looks like for you
Reflect on who the community is meant to serve. For many ERGs, 2020 not only drove an increase in membership as people sought community and connectedness, but also a surge in allyship and more people seeking to learn and support members of ERGs.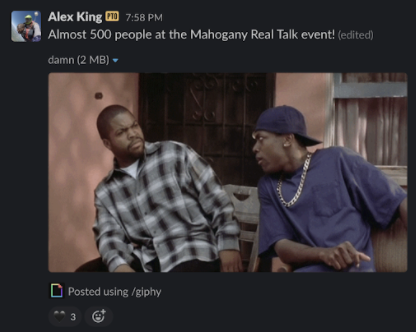 "Shortly after the racial reckoning of this summer 2020, there was a surge in the interest in the Black story, in the Black community at Workday, and we faced a huge influx … from 200 people in our Slack channel to 800 in a month."

Brianna Mills
Lead of Black at Workday
And that support is powerful.
"We weren't doing this alone. It wasn't a bunch of Black people yelling and screaming and crying. It was everyone. We had people left and right on all sides of us, all shades, voicing their opinions, raising questions."

Brea Hall
Lead of Blackboard at Pinterest
But be careful not to overwhelm the community, or degrade the safe space you have created for the community to thrive. Be intentional and clarify what it means to be an ally versus a member, and empower allies by being clear about how they can show their support of the community.
Build trust through vulnerability
ERG programming prior to the pandemic was often anchored on in-person events. You might learn about available ERGs during orientation, or bump into a big ERG in-person event in the cafe one day. You connect because you're there, around others who look and sound the same as you. You can read their body language, and physically see that they too understand your story.
Try as we might, Zoom events just don't garner that same level of connection or trust. On the other end, several hundred person ERG Slack channels can feel intimidating for people to participate. Two ways to build trust remotely:
Spend more time upfront with members: "We are very active from the beginning if you are a new employee. When you first come in, we reach out to ask how we can support you because we are remote. We are very active in our channels so you know who we are, you understand our personalities." – Alane King, lead of Blackboard at Pinterest
Share first, and share more as leaders: "Trust starts with the leads. We're really transparent if things aren't good or if we're having a great day. It's important to set the example that I can't expect you to be safe somewhere that I myself am not safe." – Brea Hall, lead of Blackboard at Pinterest
Turn big events into a series of smaller, on-going discussions
Instead of a few large production in-person events at headquarters that are only accessible to local employees, explore mixing up big events with a series of smaller event series that allow people to go deeper on a topic while getting to know each other over a longer duration of time.
"We tried a personal finance month. It was an internal event series where we had a different speaker come in each week who spoke on a topic related to personal finance. We did that over a series of four weeks in October, which really took the pressure off one big event. At the same time, it had a lasting impact on members. We no longer have just one or two monolithic events each year, but a mix of both that can be spread out throughout the year."

Alex King
Lead of Mahogany at Slack
The best part: this series of events creates opportunities for ongoing discussions in-channel, and across offices and time zones.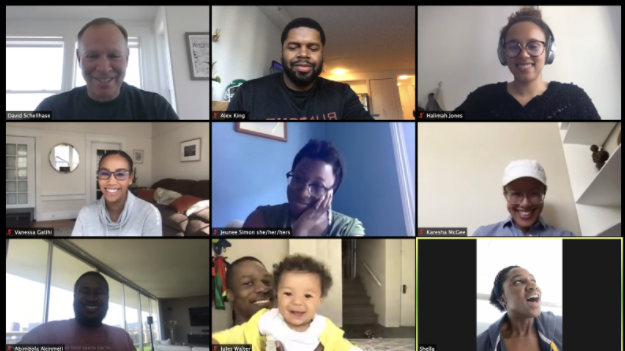 "I feel like I've met more people during the pandemic than I did before because there's always so many events. And there are different forums where you can leverage Slack and just DM someone."

Briana Mosley
Lead of Inclusive Products at Workday
Expand regional ERG leadership
Being more proactive with members to build trust, and increasing the frequency of events to support a more distributed base increases the workload significantly for your ERG leaders. As your membership grows and reaches more people in more regions, find ways to expand your ERG leadership to spread the work. Blackboard at Pinterest created regional leads to help welcome new members in different regional offices. Blackbird at Twitter used global ambassadors across their network to serve as primary points of contact for employees based in different offices and locations.
"For the past year, Blackbirds has been a lot more inclusive with its global network. We've started a global ambassador program where Blackbirds members can serve as point of contacts for their respective offices and can help create events and programming specific to their office. The hope of this is to create a stronger Blackbirds community within each office while we are all remote and to then continue once we are back in offices."

Marvin Williams
Lead of Blackbirds at Twitter
"We've taken an innovative approach to leadership. We have ERG leaders everywhere. We're spreading the work, so there's less tiredness and less burnout. That's how we've really been able to touch so many people. We're having Black History Month in Germany. We had Black history celebration in EMEA which was called Black Gold and that was huge, it was beautiful, and it inspired us here in the states to do even more."

Alane King
Lead of Blackboard at Pinterest
More importantly, regional ERG leads help provide a voice and context about areas where race relations might look and feel different from other areas.
"Something that might be important in America may not be a top priority in Europe, and just being receptive to that is important and helps us have an understanding of race relations around the world."

Brianna Mills
Lead of Black at Workday
Think global, act local
"I came in looking for a place to belong."

Alane King
Lead of Blackboard at Pinterest
With the events of 2020, we're all facing more uncertainty, competing work-life demands, and perhaps increased financial pressures, making community and connections more important than ever. While operating in a more remote and distributed environment can make building social connections harder, it can also open up new possibilities and channels for connecting with coworkers. The leaders of employee resource groups we interviewed show us that fostering community for distributed work environments is not only possible, but creates opportunities for experimenting with different ways to build trust and connection while reaching a broader group of people. As being face to face in the same office becomes less and less how we connect and meet new friends, these new ways of belonging through communities like ERGs become even more important to ensure that employees feel a stronger sense of belonging.
---
Contributors