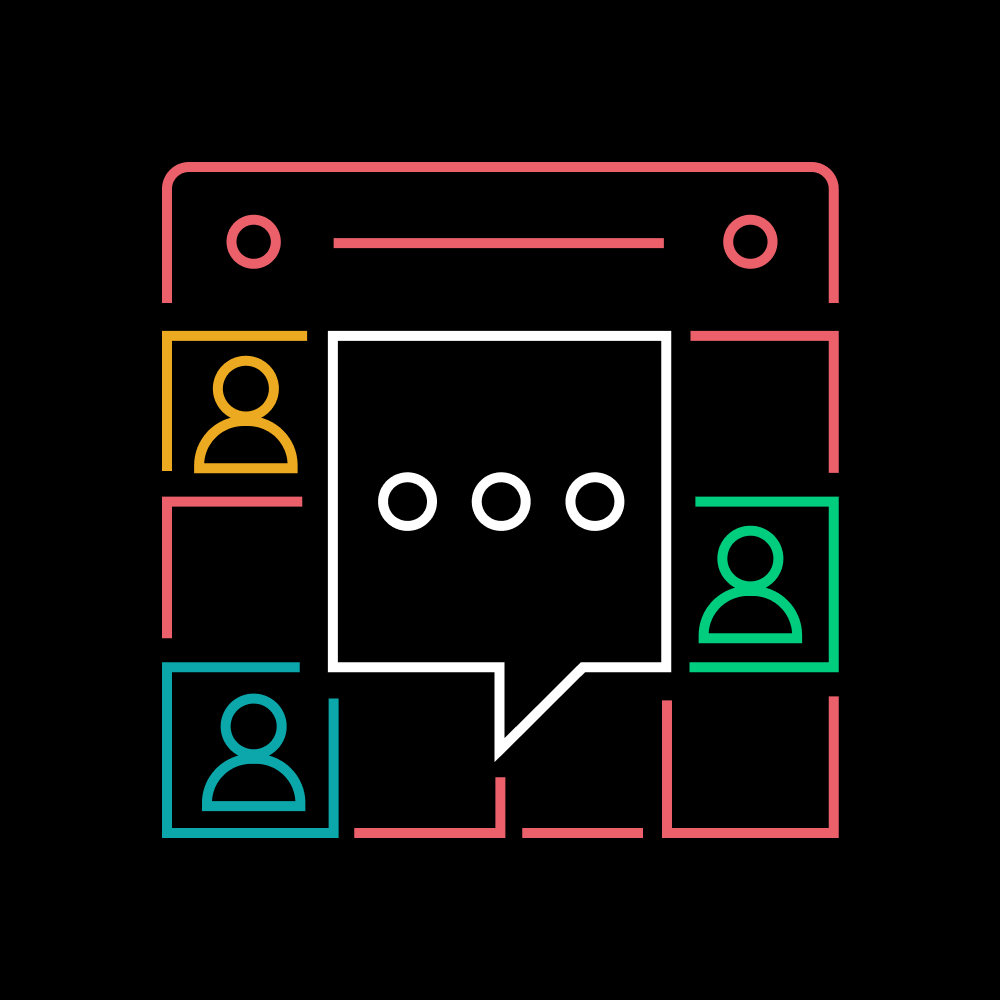 In case you missed it: Sheela Subramanian's keynote at Slack Frontiers on building a digital HQ
VP of Future Forum Sheela Subramanian on why the future of work is flexible, inclusive, and connected
Posted November 22, 2021 by the Future Forum team
Once a year, Slack brings together industry experts, thought leaders, and luminaries to tackle both the big questions and the day-to-day realities of the future of work. The event is called Frontiers, and this year the star-studded lineup included a keynote from Future Forum VP Sheela Subramanian. If you didn't get a chance to catch Sheela in action, have no fear — we've excerpted her keynote below.
---
Over the past 20 months, we've seen how the meaning of work has shifted for everyone. Literally overnight, millions of people were forced to work in ways they never had before.
Take the mother of two, who spent the first few months of the pandemic dialed into a work meeting in one ear and Zoom school for her six year old in the other.
Or an employee right out of school who started his first job from his parents' basement and is craving camaraderie with his colleagues.
Or the employee of color who felt a stronger sense of belonging when working from home, because they didn't have to code-switch their behavior or appearance walking into a physical office every day.
And then you have the executives who just want to return to the office full-time and go back to how things were in early 2020.
A massive generational shift in how people think about work
People's expectations have fundamentally changed. Millions of women and mothers are leaving the workforce — 1 in 3 women is thinking about downshifting her career or leaving the workforce entirely — up from 1 in 4 last year.
Then there's the YOLO movement — employees are exhausted by their desk jobs and looking to pursue passion projects or opportunities that offer more fulfillment.
Or maybe you've heard about the great resignation — Future Forum found that 57 percent of knowledge workers are open to looking for new opportunities in the next year, which is up quarter over quarter.
So how did we get here?
In early 2020, leaders were in crisis mode and struggling to figure out what's next. We all thought we would need to pivot for a week — but then it became a month — and now it's been over a year and a half.
Many organizations retrofitted existing company's culture, policies, and technologies to work in employees' makeshift home offices. While many people redesigned their lives, their priorities, and their time, they weren't necessarily seeing that reflected in how they worked day to day.
Now, we have 20 months worth of experience and perspective. We're not in the same place we were, nor do we want to be. Instead of retrofitting, leaders need to redesign how work gets done and meet their employees where they are.
Think about it like renovating your house. You could paint the house to cover the cracks or place a bucket under a leak. But that's only going to last so long. The cracks will resurface and the leaks will get worse during the next storm. We're now at the point where the best long-term plan for both leaders and employees is to rebuild the house from the ground up.
Leaders have an opportunity to redesign the rigid practices of work that were rooted in century-old norms and move from patching to structural change. They need to shift from C-suite centric to people-centric: it's about making work fit better for all people, rather than the select few. Redesigning also means moving from office-first to digital-first by investing in technology to connect employees.
Redesigning work is about leading with trust through flexibility, making work more inclusive for all types of employees, and fostering connection, even when you're outside the walls of a physical office.
It's about flexibility
Leading with trust through flexibility is not about the number of days you're requiring employees to come into the office.
It's about choice. It's trusting your employees and empowering them to do good work.
Flexibility is now a basic expectation for employees. It ranks second, only to compensation, when it comes to determining job satisfaction.
Sure, the vast majority of employees want location flexibility. But a whopping 93% of knowledge workers also want flexibility in when they work.
The data is clear. Employees want flexibility.

Now, before you panic, this doesn't mean a free-for-all with no structure. Flexibility only works with predictability. Two-thirds of employees want flexibility within a framework.
This could look like:
Core team work hours — a few hours in a day when teams get together to collaborate on critical topics.
Being intentional about meetings. Use meetings to discuss, debate, decide, or develop your people. Bring the rest of your status checks and ongoing conversations into digital channels.
Coming together for in-person team gatherings on a regular, but predictable basis. Digital-first does not mean you never see each other.
It's about inclusivity
Those are some fundamental ways to redesign work. And they take work! I've mentioned that people want and expect flexibility. But how do you actually get there? The truth is, most managers have not been trained to lead distributed teams.
And it shows. Middle managers are struggling. They score lower than executives across all aspects of the employee experience, and nearly 2x lower for both sense of belonging and work-related stress.
This negative experience is felt by their teams. Individual contributors have the lowest employee experience scores of all groups and the lower an employee is in your org chart, the worse their employee experience scores.
How is the employee experience differing by job tier?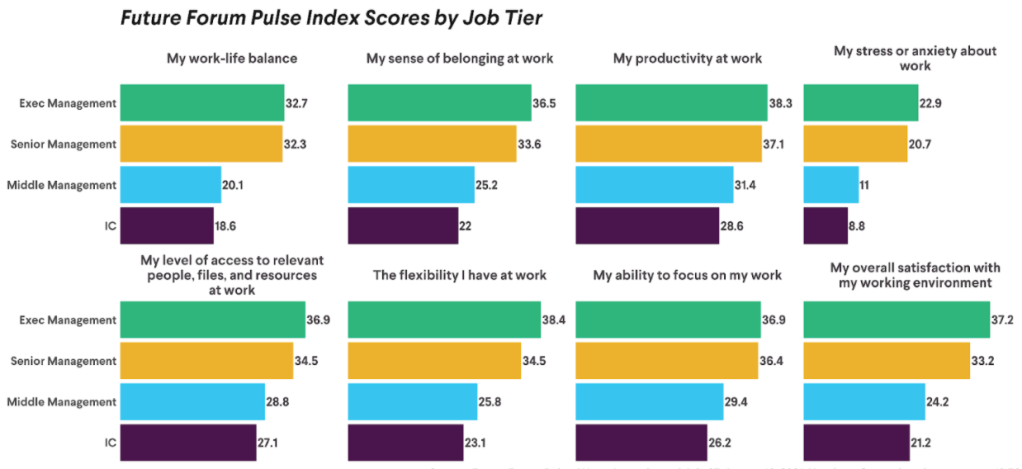 Now hold on, this doesn't mean you need to bring your junior team members back into the office. What we're seeing from the data is there's a need to reskill managers
Managers need new training, support, and tools to move from the information gatekeepers they were trained to be to the inclusive coaches they need to be.
But how do you redesign management to create an inclusive workplace?
Managers need to create clarity and establish trust. They need to define their team's operating norms and expectations. This could look like team-level agreements, a set of guidelines to define how a team works with one another.
They need to lead with transparency. This doesn't mean knowing all the answers — it means being honest and able to say "I don't know" or "I need your help." Employees who feel like their leaders are transparent are 2x more likely to be excited about the future of their companies.
Managers also need to celebrate outcomes, rather than presenteeism. Early in my career, I was lauded for being the first one in the office and the last one to leave. Those days are over. Leaders need to celebrate results, not the speed in responding to a message or hours spent in the office.
It's about connection
The role of the manager has fundamentally changed in that managers are now responsible for creating connections between their people.
Changing and shifting human behavior is difficult — but investing in a digital HQ can help you make this change.
What we're seeing:
So what does that mean? Well, building a digital HQ doesn't just involve moving meetings to video. It's using tools for virtual brainstorming or asynchronous collaboration, rather than relying on an in-person whiteboard session. It's creating opportunities to have more fun when you're apart. At Slack, we have social water-cooler channels — my personal favorite is called #trader-joes so I know what snacks I need to pick up the next time I go shopping.
But going digital-first doesn't mean you never see each other in-person. If you build a culture of trust, accountability, and outcomes, you don't have to come into the office all the time. Instead your day to day will happen in your digital HQ and the office will foster camaraderie and connection.
To build a people-centric workplace, invest in a digital HQ
Now is the time to move forward and redesign how and when we work, how we lead our teams, and how we connect with one another. It's on leaders to build a workplace that fits all types of people — that's what a people-centric workplace is. Investment in a digital HQ will help you get there. It requires intentional transformation, not retrofitting back to the old ways of working.
Growing up as a latchkey kid and throughout my career, I didn't think that picking my kids up from school or coaching their soccer teams was ever in the cards. There were so few role models to look up to as I was figuring out how to grow my career and my family in a way that was authentic to me.
Over the past 20 months, I've felt a stronger sense of belonging, both as a leader and as a mom, daughter, wife, sister, auntie, and friend than I've ever felt before. And I hope that this opportunity to redesign work enables others to feel the same.