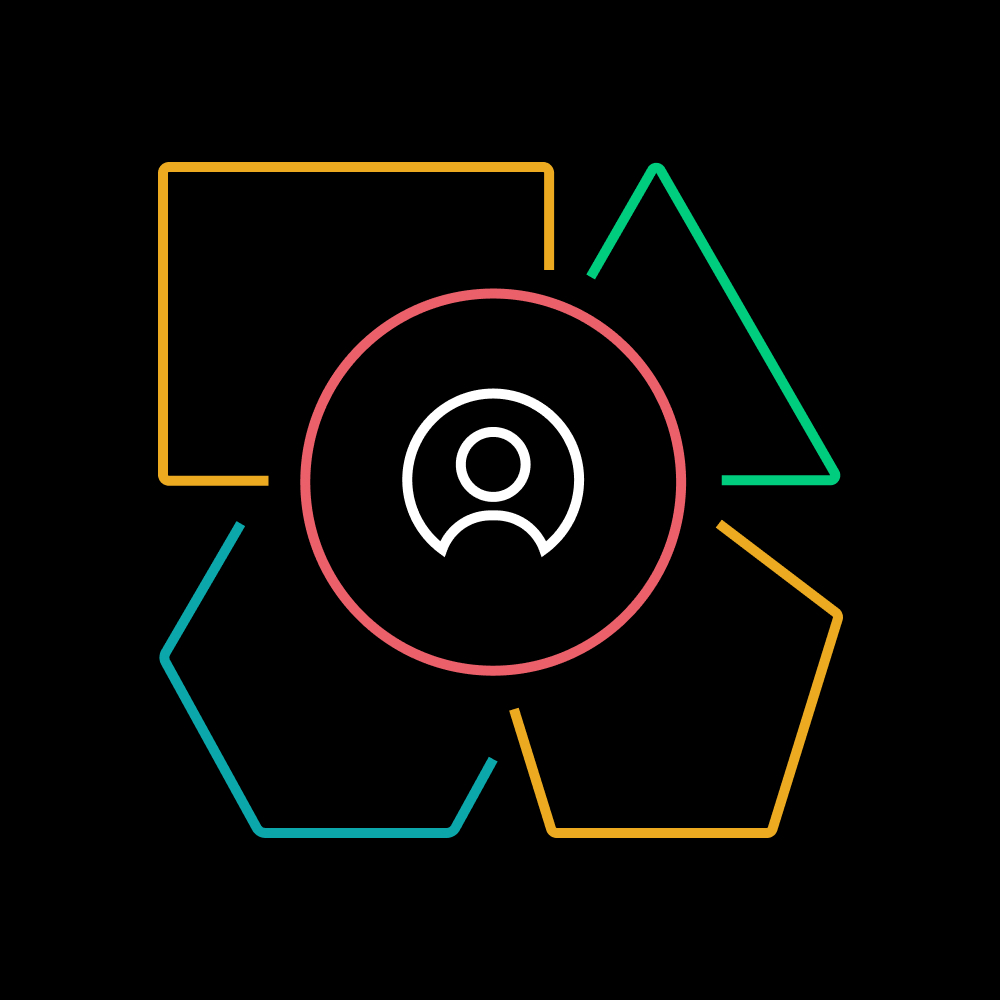 Moving from retrofit to redesign on diversity, equity and inclusion: a how-to guide for leaders
The importance of building a representative workforce and creating the systems, processes and practices necessary for workplace equity
Posted June 15, 2021 by Sheela Subramanian
By Sheela Subramanian, Senior Director, Future Forum by Slack, Tina Gilbert, Managing Director, Management Leadership for Tomorrow (MLT), and Kevin Donahue, Vice President of Strategy, MLT 
MLT is a founding partner of Future Forum. For more information, please read more about the partnership.
---
Context
Recently, corporate leaders have become increasingly vocal about social issues impacting historically discriminated communities, from the inequities exposed by the pandemic to the murders of Black citizens by police. In the past year, we've seen action moving beyond words to hiring on the executive levels, including a 3x increase in the hiring of chief diversity officers in the past 16 months and a 240% increase in the naming of Black board members over the past five months. But representation in the workforce is still lacking; for example, despite making up 13.4% of the general population, just 8% of managers are Black, only 5.3% of people working in the tech industry are Black, and there are only four Black CEOs in the Fortune 500.
DEI, DEB and I&D have become commonly used acronyms, yet diversity, equity and inclusion are oftentimes terms used interchangeably and defined inconsistently. It's critical that leaders align on definitions and pay attention to all three, as they are related but drive different outcomes and are equally important for organizations to invest in and monitor.
To start, let's define the terms:
Diversity is the difference in identity, experience and perspective among people. Diversity is often talked about in terms of representation.
Equity is about ensuring processes, policies and practices work well for everyone. It's not about treating everyone exactly the same, as people have different needs, motivations and desires, but it is about making sure the organization works equally well for everyone.
Inclusion is about creating an environment where people feel valued and heard within their organizations. In an inclusive organization, everyone has the confidence they can be themselves and be respected and successful within the organization.
Leaders must understand these concepts and focus equally on all three areas. It's clearly not enough to have a diverse leadership pipeline if there is a toxic culture for non-dominant groups. It's equally problematic—and arguably impossible to achieve in practice—to have an inclusive environment or equitable practices with limited diversity among employees.
Leaders must invest in building a representative workforce at all levels and creating the systems, processes and practices required to provide equitable access to opportunities and a strong sense of belonging.
While the flexible work arrangement that this past year has forced upon us was a better experience than the office for many knowledge workers, the structural challenges around management, transparency and mobility remain.
Based on the latest data from Future Forum, while sense of belonging for Black employees remains higher when working remotely relative to working in the office, there's still a gap in overall experience: White employees still report 25% higher sense of belonging scores compared with Black employees, 21% higher scores for level of access compared to Latinx counterparts, and double the scores for managing stress and anxiety compared to Asian colleagues.
Future Forum Pulse scores by race/ethnic group

Much of this gap is largely due to inconsistent experiences at work. We often see that underrepresented employees have a fundamentally different experience than majority employees, even when coming from similar backgrounds and within the same organization. Based on the same research, 69% of Black respondents value the relationships held with coworkers, compared to 83% of white respondents.
Even if flexible work increases an organization's ability to compete for diverse talent, there's a massive opportunity to reskill managers to help close this employee experience gap and to help historically underrepresented employees build their networks to successfully navigate the organization.
The key investments for diversity, equity and belonging for 2021 and beyond
Based on June 2021 research, 80% of Black, 78% of Hispanic, and 77% of Asian respondents want a flexible working experience, either through a hybrid or remote-only model.
Who wants to go back to the office full-time?

Flexible working models have become a competitive advantage in the effort to attract more diverse talent. Flexible models can also help organizations tap into broader, more diverse talent pools and give employees far greater room in where they live and how they work. But flexibility alone is not the panacea for improving diversity, equity and belonging in your workplace.
Managers should be trained for inclusivity
MLT surveyed its alumni population of more than 8,000 Black, Latinx and Native American knowledge workers about their experiences over the past year, during which the vast majority—over 95%—have been in hybrid or fully virtual work environments.
Based on MLT alumni data, 35% of individuals surveyed have found it more difficult to get information about key organizational priorities and 39% have found it harder to receive career guidance and advice. Companies need to start by helping (primarily white and often male) managers better understand the underrepresented employee experience, which often looks fundamentally different from their own. Managers also need to be skilled as coaches, rather than the traditional gatekeepers; adopting inclusive practices needs to be a key skill for any successful manager, rather than a nice-to-have.
Access to information and career guidance among MLT alumni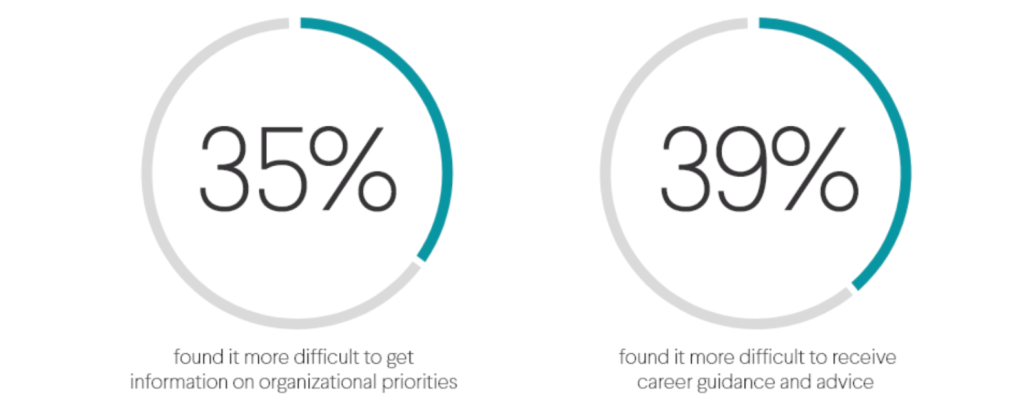 The first inclusive practice starts with constructive feedback. Constructive feedback is critical in the virtual environment, and Black, Indigenous, and people of color (BIPOC) and female employees often get less clear and less constructive feedback. Inclusive practices need to be adopted when delivering feedback: Ask yourself whether you've focused on skills and outcomes, rather than prevailing norms of how work should be done or how employees should act.
Regular feedback conversations should cover two distinct types of feedback: (1) performance feedback about how an individual is doing relative to performance expectations for their current role and (2) career feedback about how one is tracking relative to achieving their career goals. These two types of feedback are related, but often separate and distinct. BIPOC employees tend to get less career feedback, which includes specific discussions of the skills individuals need to build, accomplishments individuals need to point to (such as stretch projects, leadership roles or gaps in a résumé) and relationships individuals should develop to position them to achieve their career goals at the organization. As part of the reskilling of managers, leaders should serve as a "career collaborator" with their employees and schedule career conversations on a recurring basis.
In addition to feedback, opportunities for growth and "stretch projects" need to be equitably assigned. It's the role of the leaders to track and equitably distribute who they're selecting for stretch opportunities and cross-functional assignments, which are critical for professional development and career advancement. Employees of color often feel excluded from consideration for these opportunities, which can lead to lack of satisfaction, engagement and confidence one can succeed at the organization.
Break down systemic barriers; invest in advocacy and sponsorship from leaders
As part of their jobs, leaders must also prioritize and protect time for networking—for themselves and for their team members. It's critical that leaders think about who they're spending valuable networking and social time with from an equity perspective (e.g., do leaders find themselves consistently networking/socializing with a small group of people or via activities that naturally attract a similar group of people?). Employees of color often find it more challenging to break into important networks, and leaders must take the extra initiative to break down these barriers.
As teams get increasingly distributed, leaders have the opportunity to create "curated collisions," or networking opportunities with people outside of your immediate working team—whether in the office or using digital tools. Based on MLT alumni data, a large minority of individuals report that their ties outside of their immediate network have gotten weaker during this pandemic.
Approximately 70% of MLT alumni have found it harder to network with people outside of their immediate team, 65% report relationships with colleagues outside their team have gotten weaker (or significantly weaker) and 55% have found it more difficult to find a sponsor in the remote environment.
While a hybrid environment may help with building diverse teams, there is also a high risk that it may lead to more inequitable outcomes if not driven by principles and guidelines. In addition to setting the appropriate frameworks, there's an opportunity to further invest in fostering social connection. Many MLT alumni indicated they would benefit from informal networking opportunities, including games, trivia, coffee chats and small gatherings that are not work-related, especially across departments or office locations.
Digital and physical tools can foster a deeper connection and many innovative solutions have sprung up over the past year. Digital tools like Donut can randomly pair individuals and build one-to-one ties. Ideally, these digital meetups are just that—without agendas or business-related conversation. And by investing in human moments in the office, whether through hoteling or desk swaps or activity-based design, the office can be used to build relationships outside of one's immediate team.
Access to networking and relationship-building among MLT alumni

MLT alumni survey, 2021
Support your ERGs
Based on MLT alumni data, 65% of respondents reported that Employee Resource Groups (ERGs) have been helpful in a hybrid environment. However, out of 50 ERG leaders surveyed, only 10% said their resources increased during the pandemic. Your ERGs help your BIPOC employees build their network and support system—give your leaders the resources they need to grow them.
And support needs to move beyond day-to-day resourcing. While it's critical for executives to sponsor and connect with ERGs, it also requires more than hearing people out: Companies can leverage these groups as an essential cornerstone of strategy for the company. Building a diverse and inclusive organization is a critical part of a business strategy, not a side job. Show your support of this work by appropriately compensating and recognizing your ERG leaders for the critical role that they play by recognizing ERG leadership contributions as part of their job performance. If diversity, equity and belonging are a key part of your business strategy, then your ERG leaders are your core advisors and should be compensated and recognized accordingly.
A final note
While the past fifteen months have raised awareness of the systemic inequities in our society and traditional working models, now is the moment to push for bold changes to address them. It's about time companies moved from statements to the concrete actions required to build a workforce that reflects your customer base and practices that reflect your values and advance your business objectives. Employers can meaningfully move the needle on racial equity within their workplaces, but it requires taking a rigorous approach, which includes evaluating and addressing key practices, policies and systems that have led to many current inequities and different lived experiences.
To learn more about how leaders can meaningfully move the needle, please reference the Black Equity at Work program by MLT.
When you intentionally design for diversity, equity and inclusion, you get diversity, equity and inclusion. This pandemic has given us a new canvas to work from. Let's start redesigning.