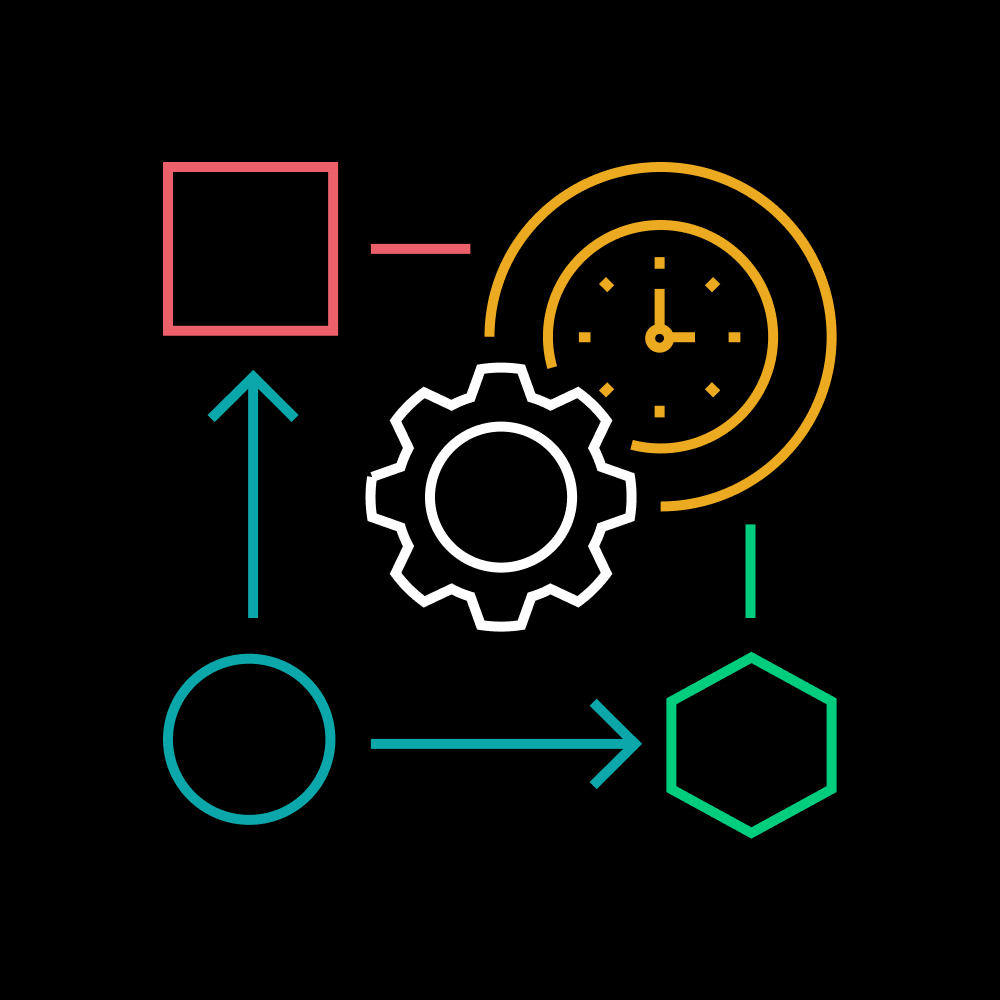 The future of work glossary
A compendium of key terms to inform the workplace of tomorrow
Posted September 26, 2022 by the Future Forum team
The radical transformation of the workplace over the last few years hasn't just changed where and when people work. It's also shifted how we work together—giving rise to a slew of new approaches for collaborating across locations and time zones.
Here at Future Forum, we're defining key terms in the ever-expanding future-of-work vernacular to keep you updated on the A to Z of working in a digital-first world. We'll refresh this glossary with the newest terms, so check back periodically to get the latest.
Asynchronous work
"We're all wired differently. Some people are morning people, some are night people. Some need quiet, some need energy. Now there is more of an opt-in, choose-your-own-work-style, rather than everyone having to sit in a bright office."

– Alexa von Tobel, founder and managing partner of the venture firm Inspired Capital in Fortune
From Amy Rigby on the Trello blog: "Asynchronous, in short, is when work happens for different people on their own time." But this doesn't mean cutting your teams loose to float in an unstructured sea of tasks. Asynchronous workflows succeed when leaders set specific—and fairly high—standards of communication and documentation and when team members clarify and hold to expectations around shared goals and deadlines.
Brainwriting
Brainwriting is an idea generation technique in which participants independently write down their ideas—synchronously or asynchronously. Those ideas are then gathered, shared, and discussed in a group. Give the 6-3-5 brainwriting technique a try, either in-person or virtually: Led by a moderator and focused on a single question or problem statement, six participants each record three ideas in five-minute rounds in a shared document or worksheet. At the end of each round, the document is "passed" to another participant, who can then build upon their colleagues' ideas. The result: 108 ideas generated in 30 minutes.
Core work hours
"The intent of this setup is to encourage non-linear workdays where employees gain more control of their time and have more time for things like deep work."

– Melanie Collins, Chief People Officer, Dropbox
Core work hours are a pre-designated timespan when team members agree to be "live" and available to one another for meetings or feedback, allowing employees the flexibility to adjust working hours during the rest of the day. Giving employees more control over their schedules through core work hours leads to higher productivity and deeper engagement.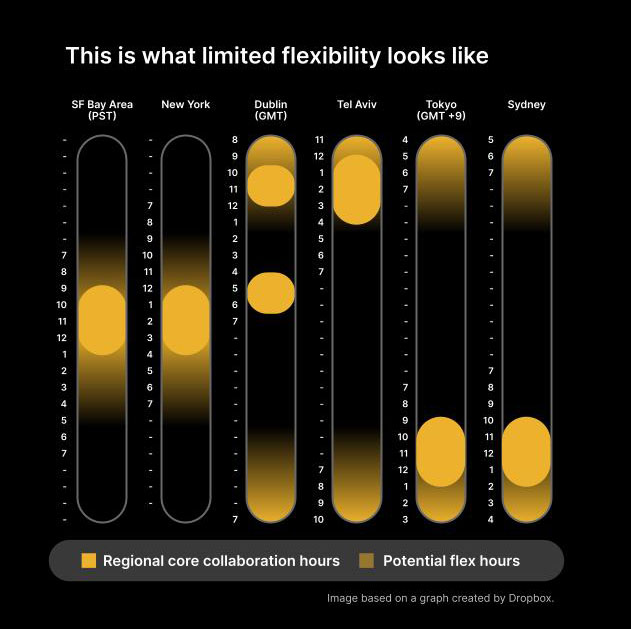 Employee resource groups (ERGs)
"Usually, people join ERGs because they are missing a sense of belonging at work, and they really want to feel respected, heard, and valued."

– Christine Michael Carter, corporate coach and ERG consultant
Employee resource groups are voluntary employee-led coalitions organized around a shared characteristic. Many ERGs represent groups that have historically faced discrimination based on race, sex, sexual orientation, or disability. Others focus on shared experiences (such as military service or remote work), life stage (including working parents and young professionals), or interests (like community service or climate advocacy).
Flexible work
"Most of the time when people talk about flexibility, they talk about location — and terms like "remote" and "distributed" largely suggest this kind of flexibility. But when it comes to flexible work, the when is actually more important than the where."

– Sheela Subramanian, VP, Future Forum
Flexible work means emphasizing business outcomes over where, when, and how the work gets done. It means holding employees accountable to results while giving them more choice and autonomy to work in the way that suits them best.
Flexible working is not a set of "one size fits all" rules or policies, but it's also not a total free-for-all — it requires adopting a digital-first approach and setting up a framework to support cross-functional, asynchronous collaboration.
Nonlinear workday
"The next frontier is time independence. Employees are not going to be satisfied for long with just location independence. The top talent in the world is going to gravitate to where the most flexibility is available, because that's the environment where work doesn't feel like it's in competition with life—instead, they're ebbing and flowing with each other."

– Darren Murph, Head of Remote at GitLab
A nonlinear workday means employees break their workday into two or more blocks, rather than logging on for eight hours straight. Nonlinear work exists along a spectrum of flexibility: Teams can set schedules in advance to accommodate core work hours for real-time collaboration, or allow employees to spontaneously fit all tasks into each day as it shapes up.
Personal User Manuals
Personal User Manuals (also known as "Personal Operating Manuals") are short descriptions of your background, values, and communication style. All team members should complete and exchange a Personal User Manual to help teammates better understand each other. Here's a template created by the Organizational Effectiveness team at Slack to kick off the exercise.
Presenteeism
"Presenteeism is an outsized emphasis on someone's visible engagement with a workplace, regardless of the quality of work they're producing."

-Anne Helen Petersen, culture critic and author of Out of Office
Presenteeism is the pressure employees feel to meet their company's behavioral expectations, rather than its business goals. Because it incentivizes people to waste time and effort making their work visible instead of good, presenteeism is a productivity killer. What's worse, it can contribute to worker burnout and even exacerbate employees' chronic health conditions.
Proximity bias
"Proximity bias inflicts the greatest damage on women and people of color."

– Katica Roy, CEO of Pipeline
Proximity bias is an unconscious tendency to favor the people we're physically closer to. In flexible working environments, proximity bias heightens the risk that in-office workers will receive preferential treatment simply by spending more in-person time with their managers. Underrepresented groups are most affected by this cognitive glitch.
Psychological safety
"Psychological safety is a belief that one will not be punished or humiliated for speaking up with ideas, questions, concerns, or mistakes."

– Amy Edmondson, author and professor of Leadership and Management at Harvard Business School
Psychological safety is rooted in the idea that employees who feel a sense of mutual trust and respect will outperform employees who feel inhibited by a culture of recrimination. Here are several ways to build a culture of psychological safety: create clarity, accept and own mistakes; share what's hard; ask for help; and create spaces for human connection.
Team-level agreements
"When a team is working on different schedules and locations, coordination and collaboration have to become a lot more intentional. For example, our team uses a team-level agreement to document norms like "core collaboration hours" from 10-to-3 PST where we're all available for live conversations and meetings, with the rest of the day reserved for heads-down focused work."

– Helen Kupp, Co-founder, Future Forum
Team-level agreements (sometimes called "Team norms," "Team working agreements," or "Team operating manuals") are a set of guidelines that establish expectations for how all members of the team work with one another. The goal is to inspire trust, create clarity, and unlock performance of teams by being more explicit up front about how the team operates. Team-level agreements offer flexibility—within a framework —for your organization. Use this Future Forum template to get started.